Tuesday, June 21, 2011
Easy Ownership: The Great LSA
Paradigm shifts happen...and we're right in the middle of one!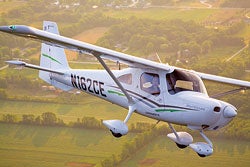 While light-sport aircraft are relatively less expensive than other airplanes, for some pilots, they're still out of reach. Shared ownership offers one solution to this issue.
Mike Z's LSA distributor/dealer/flight school is one of the oldest in the country. "Since 2005, we've not had a single incident, not even a flat tire!" A third of his sport pilot licensees have gone on to get their private pilot ticket.
Lou Mancuso, a 7,000-hour CFI, has offered LSA and GA flight training since the beginning. His Mid Island Air Service on Long Island, N.Y., trains in the SportCruiser, the Remos GX and the Cessna Skycatcher. His fleet also has Cessna and Piper GA aircraft, so he knows their relative merits better than most.
"LSA aircraft and the driver's license medical are the single greatest thing that no other category can provide," Mancuso says. Customers felt sad at the prospect of stopping flying. Now, they're back."
Mancuso's students range in age "from very young to old, and everything in between. I have everyone go for their sport pilot license; we don't talk about the private. And my drop-out ratio is a lot less than it used to be.
"LSA will fix the dwindling pilot population problem," Mancuso adds. "It's a big commitment to go through 70 hours for the private pilot, especially at congested, towered airports. The 30 to 40 hours for the sport pilot course will turn things around."
Mancuso says, "LSA rental, maintenance and repair is much cheaper. Parts are inexpensive: A prop costs $2,000; it's $4,300 for a Cessna. Spark plugs are $4, not $25. We toss out plugs every 100 hours rather than clean them. The electronic-ignition Rotax is so wonderful to start: two throws of the blade. And all that 'old tech,' like alternators, belts and brackets that break, are gone. The stators in the Rotax never have a problem.
"LSA are safer than GA airplanes, too," Mancuso continues. "We had an engine failure in a Beech Musketeer. It barely made the parking lot. My LSA outclimbs it 4:1, or a Cessna 152 by 3:1. They get to altitude faster, with much better engine-off glide ratios.
"And LSA give us advancements in avionics at a 75% discount over certified instruments. Every passing month, I learn something new about LSA that keeps me excited," Mancuso says.
Shelley Wozniak, a Remos GX owner from Stewart, Fla., echoes Mancuso's enthusiasm. She also instructs in LSA. "I began teaching at 58 after having flown a bunch of GA airplanes, helicopters and LSA. I have the Aviator II model, so I teach instrument flying too. It's much less expensive to operate.
Page 3 of 5
Labels:
Aircraft Bargains
,
Aviation News
,
Budget Flying
,
Buyer's Guide
,
Buying A Plane
,
Features
,
LSAs
,
Pilot Supplies
,
Shared Ownership
,
Fractional Ownership
,
Ownership
,
Best Buys
,
New Aircraft
,
Aircraft
,
New Airplanes
,
Aircraft Upgrades
,
Aircraft Ownership