Tuesday, February 21, 2012
It's An LSA World
Fun, useful, life-changing: LSA proving themselves at work and play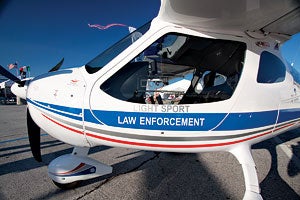 The Sheriff's Office in Tulsa, Okla., operates a Flight Design CTLE, equipped with a surveillance camera for law-enforcement missions.
"I flew the Sheriff to demonstrate how it could do Homeland Security work," Crow explains. "We saw two individuals doing something suspicious on a riverbank. We orbited at 700 feet. The engine is so quiet, they never knew we were there. We burned 2.5 gallons of auto gas...about $10 worth. Helicopters cost $500 to $600 an hour to operate. That's what law-enforcement agencies are seeing: an aircraft that can easily be used as a 'force multiplier' when they don't need a chopper or Cessna to chase speeders up the highway, and at a fraction of the cost."
Roger Crow will be busy in the months to come, demonstrating the CTLE all over the country and training deputies to work the hardware from the right seat. Dubbed a Tactical Flight and Mission Control Officer, the right-seater operates the wing-mounted camera, directs the pilot to a hot scene of criminal or rescue activity, and communicates and coordinates with personnel on the ground. Visit
www.echoflightusa.com
.
The Happiness Of The Long-Distance Flyer
"Brazil reminds me of the midwestern United States." That's from Paul Kramer, a 77-year-young pilot who runs his own flight school, Learn To Fly Center, Inc., in Pompano Beach, Fla. And although he has racked up 60 years of cockpit time, he couldn't turn down a chance to deliver a SportCruiser to a Brazilian customer for US Sport Aircraft.
"I thought this would be an opportunity to have a bit of a flying adventure while demonstrating the capabilities of light-sport aircraft," says Kramer.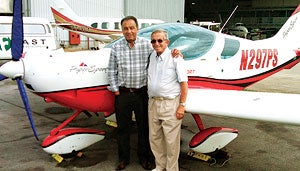 Paul Kramer, 77 years old, delivered a SportCruiser from Florida to Brazil.
The SportCruiser, a Czech-built early LSA success, was briefly marketed as the Piper- Sport. So how would it fare on a 4,133-mile flight through several flavors of international airspace? The short tell: like a champ. Kramer felt the long flight would demonstrate the capabilities of LSA in the hands of an experienced pilot. "But I was determined to fly it like a sport pilot," he says, "by daylight VFR, below 10,000 feet and at no more than 120 knots."
His rig included Dual Dynon EFIS displays, Dynon Autopilot and Garmin 696. Useful load was 482 pounds with 28 useable gallons, a life vest, four-man life raft, jungle survival kit, one small suitcase, portable Com radio, back-up Garmin 396, SPOT Emergency Locator Beacon, "...and me—I weigh 160 pounds," Kramer adds. "Even with all that, I was still a respectable 60 pounds under gross."
Two prime questions attend such ambitious undertakings: What's the availability of clean gas, and how challenging is the foreign-language requirement? Paul Kramer's answer: No problemo, amigo. "I flew from English to Spanish to Dutch to French to Portuguese in a two-day period! As soon as they hear you speaking English, they speak English."
The seven-day flight included touchdown at 18 airports. Only one was non-towered. "That one was in the middle of the jungle, but what a beautiful airport, with knowledgeable mechanics and very nice people," Kramer says. Inflated user fees ($200 per landing and more) in Trinidad and Guyana were a bitter pill, though. "I would only land there again if I had no choice due to short range."
Page 2 of 4