Monday, August 1, 2005
Light Sport Aircraft Are Here And Flying!
Now, there's no argument whether or not LSA designs will become a reality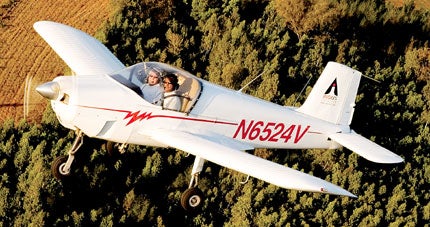 Ram Pattisapu and Vinod Vakharia of IndUS Aviation fly the Thorp
As some pilots may have heard, the FAA finally handed down its completed rulemaking regarding light sport aircraft (LSA) and sport pilots this past April 15 (perhaps, more than coincidentally, tax day) at the Sun 'n Fun Air Show in Lakeland, Fla. The LSA regulations were several years in the making, the consummation of extensive lobbying efforts by virtually all of aviation's alphabet groups. In fact, the final rules reflect extensive input by the EAA and AOPA, an example of what can happen in that rare instance when the government actually listens to the people it represents.
LSAs have now been legally defined, and the first type certificates have been awarded simultaneously to several LSA manufacturers. According to the final rule, a fixed-wing, light sport aircraft is generally defined as a fixed gear and prop, day two-seater with an unpressurized cabin. Max allowable speed is set at 120 knots, and stall can't exceed 45 knots.
The sport-pilot certificate is similarly less complicated than a standard private license. A sport-pilot ticket allows only day-VFR flight in the LSAs defined above. There are student sport tickets and full sport licenses, both of which require either a third-class medical or a current, valid U.S. driver's license, and the sport license demands that the applicant pass a written and practical test. No passengers may be carried for hire, but a pilot may share expenses with a passenger.
Unlike ultralights, there are no restrictions on empty weight or fuel capacity, so there's effectively no unreasonable limit to range. Many airplanes in the class will feature Rotax or small Continental and Lycoming powerplants, limiting fuel burn to 6 gph or less.
Page 1 of 5