Thursday, June 19, 2008
LSA Lineup
With more than 1,400 aircraft registered in the States, the phenomenon keeps growing!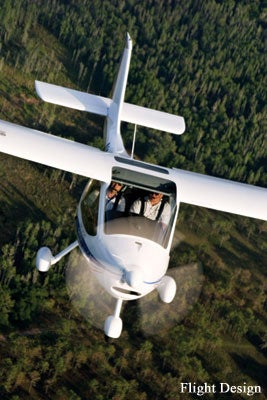 What exactly is a light-sport aircraft (LSA)? To qualify as an LSA, an airplane must be a maximum two-place, single-engine, fixed-gear machine that weighs no more than 1,320 pounds (1,420 for watercraft). It must have a level, full-power speed of no more than 120 knots, a clean stall speed no faster than 45 knots and a fixed-pitch propeller. Many LSAs can be optioned-up for the private pilot and even for the instrument-rated pilot, though none are appropriate for heavy IMC. The current LSA altitude limit of 10,000 MSL isn't necessarily an aerodynamic limitation of many of these designs, so many can actually be flown quite a bit higher by a private pilot. What follows is a roundup of some major LSA manufacturers.

Flight Design
www.flightdesign.com
Flight Design has delivered more LSA than any other company. Though the original CT is still being built and delivered, its new and improved big brother, the CTLS, now gets the most new orders. The cantilever-wing CTLS cruises near the 120-knot LSA maximum and has a range of nearly 1,000 miles. Slotted flaps bring minimum controllable airspeed down to the 40-knot range. With the high strength-to-weight ratio of structural carbon fiber, a fully equipped CTLS still has a useful load that's above 550 pounds, even with a standard BRS parachute system. Options include tundra tires, Garmin SL30 NAV/COM (with Dynon HS34 module), Garmin GTX 330 Mode S transponder and TruTrak autopilot. Rather than continuously changing prices, Flight Design has introduced a flexible surcharge that accounts for some of the frustrating dollar/euro fluctuations.
[Read Flight Design CT: Best Of The LSAs? from P&P January 2007.]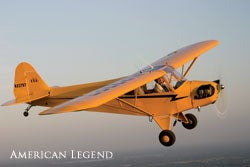 American Legend
www.legend.aero
American Legend has kept the J-3 Cub design alive, offering both LSA and kit versions of the quintessential light GA airplane with modern improvements and safety enhancements. Available with either the four-cylinder classic Continental O-200 or six-cylinder Jabiru 3300, 20 gallons of gasoline is good for 230 to 275 miles of low and slow fun. The modern LSA Legend Cubs all have electrical systems with electric starters, aluminum spars and modern brakes. Options include skis, vortex generators (they drop stall speed from 38 to 35 knots), floats, Garmin/Dynon glass, an artificial horizon, autopilot and an AmSafe air bag restraint system. This is a great "fun" airplane; its benign handling makes it a favorite for tailwheel training.
[Read The Flying Siegfrieds from Pilot Journal July/August 2008.]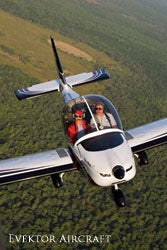 Evektor Aircraft
www.evektor-aircraft.com
LSA by Evektor Aircraft are used extensively in the training market, partly because they come with strong factory and distributor support for flight schools. This year, the new SportStar SL has numerous aerodynamic and functional improvements, including an "area-rule" fuselage and redesigned cowling. There's more carbon fiber in the roll bar, and the original proprietary Evektor brakes have been replaced by easy-to-service Matco units. A TruTrak autopilot is available and a Dynon EFIS adorns the panel. The 100 hp Rotax 912 ULS and three-blade, ground-adjustable Woodcomp prop pull the SL along at lower power settings, thanks to Evektor's aerodynamic improvements. Conventional spring gear and sheet-metal construction mean that mechanics are automatically familiar with the airframe.
[Read Evektor SportStar: Czech Mate from P&P May 2007.]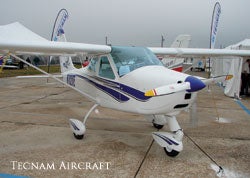 Tecnam Aircraft
www.tecnamaircraft.com
Tecnam provides a line of all-metal, Rotax 912S–powered "grown-up" airplanes that serve as trainers, commuters and even cross-country flyers. The newest, the P92 Eaglet, is a conventional side-by-side airplane that's reminiscent of a C-152, except it's wider, quieter, faster, carries more load and burns less gas. Added to the Echo, Sierra and Bravo line, the high-wing, strut-braced Eaglet has a standard six-pack panel, features predictable and stable handling and is aimed straight at the training market. Its all-metal construction, high wing and Wittman-style, spring-steel landing gear make it easy to repair. With its greater visibility, bigger rudder and larger ailerons, the Eaglet offers a quicker roll rate and more authority than its P92-series predecessors. Options on the Italian-built machine include strobes, NAV lights and several interior and panel upgrades, all the way to full, legal IFR. It's a trainer you can grow with.

CubCrafters
www.cubcrafters.com
CubCrafters has spiffed up its Sport Cub with standard front- and rear-seat AmSafe inertia-reel harnesses with air bags; an optional 72-inch Sensenich ground-adjustable, carbon-fiber prop for the Continental O-200A; and a batch of performance- and style-enhancing carbon-fiber parts, including cowling, spinner, floorboards and 30-some other pieces that lower the weight while subtly improving aerodynamics. The option list includes strobes, NAV lights, panel upgrades, a PS Engineering PM1200 intercom with XM capability, a modern 406 MHz ELT, leather seats, Alaska Bushwheel tundra tires and Baumann 1500 floats. How can you tell the Sport Cub from the Piper originals? The Sport Cub is lighter, stronger and wider by four inches in the cabin; the panel is four inches farther forward; the door is wider; and the wing tanks hold a total of 25 gallons. The Sport Cub has an electrical system and starter, aluminum spars, a "Super Cub" airfoil...and about a hundred other things to recommend it to potential buyers.
[Read CubCrafters Sport Cub from P&P April 2007.]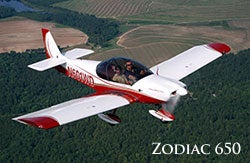 Aircraft Manufacturing & Design (AMD)
www.newplane.com
AMD in Eastman, Ga., manufactures two very different Continental O-200–powered, all-metal LSA: the low-wing Zodiac 650 and the high-wing STOL CH 750. The Zodiac 650 and its close cousins comprise one of the largest fleets of kit-built airplanes in the world, and this factory-built LSA continues that tradition with few modifications from the kit machine. It can be configured to fulfill just about any training role, all the way through IFR-eligible. The STOL CH 750 has a roomy and readily customizable panel. Options include a variety of lights, avionics and equipment. Accessed through swing-up doors, the American-stitched interior is tasteful and comfy.
Page 1 of 3