Tuesday, June 23, 2009
LSA Roundup
Light-sport models and avionics to suit all budgets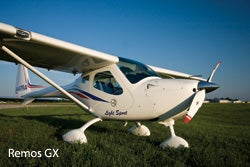 Remos GX
Currently ranked number four in U.S. sales, the GX is the latest model from Germany-based Remos. The aircraft offers a composite design with a carbon-fiber wing, plenty of storage space, good speed (112-knot cruise), excellent range (745 nm) and an impressive useful load of 650 pounds. Standard Price: $129,900. Contact:
www.remos.com
.
Urban Air Lambada
Imagine cruising along at 105 knots, turning off the engine under a thermal-generated cloud and watching the prop automatically feather. Then, supported by the 49-foot wings, you soar for an hour. Engine on, and back to the airport for you. For soaring enthusiasts, this is the ultimate LSA, with a 30:1 glide ratio, 210 fpm sink rate and 105-knot power-on cruise at ridiculously low fuel consumption. Standard Price: $109,000. Contact:
www.urbanairusa.com
.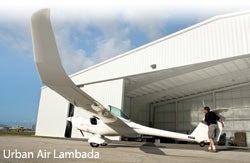 Czech Sport Aircraft SportCruiser
The Czech Republic–built SportCruiser is certainly one of the most beautiful LSA on the market. Recent court battles over company control appear to have been resolved—good news for owners and future buyers of this fun, stylish low-wing cruiser, which comes in three models: Club, Tourer and Professional. Standard Price: $117,850. Contact:
www.letsfly.org
.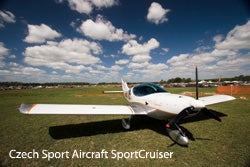 CubCrafters Super SportCub
Offering its own versions of the Piper Cub, CubCrafters' latest model, the Super SportCub, focuses on raw power for climb performance. Its CC340 engine, rated at 180 hp for takeoff and climb, and 80 hp for cruise and continuous power settings, has electronic ignition, a 2,400-hour TBO...and a whopping 2,100 fpm climb rate! Standard Price: $163,280. Contact: www.cubcrafters.com.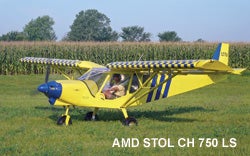 Jabiru J250-SP
The high-wing J250-SP, manufactured in Australia, is a long-distance runner built for cruise. Roomy, stable and comfortable, the composite bird is one of three models. Long-distance cred: Vno cruise of 110 knots plus a range of 840 nm. Standard Price: $105,900. Contact: www.usjabiru.com.

AMD STOL CH 750 LS
Aircraft Manufacturing & Design produces the CH 650 LS and LSi cruisers and the all-metal, STOL-capable CH 750 LS S-LSA in Georgia. Powered by a Continental O-200 engine, these designs are based on kit models, of which 1,000 are in operation. Standard Price: $99,900 (CH 750 LS). Contact: www.newplane.com.
Page 2 of 7