Tuesday, June 23, 2009
LSA Roundup
Light-sport models and avionics to suit all budgets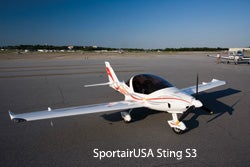 SportairUSA Sting S3
With great views, performance and handling, the Sting S3 is fast (116-knot cruise), roomy (44-inch-wide cabin), leggy (790 nm with wing tanks) and safety conscious—every Sting comes with a Galaxy all-airplane ballistic parachute system as standard equipment. Standard Price: $119,900. Contact:
www.sting.aero
.
InterPlane Skyboy
Flown all over the world since 1992, the Czech-built Skyboy debuted as a European microlight. Several Rotax engine models and a Jabiru 2200 offer variety in performance. With ultralight-style cruise speeds (60 to 80 knots) and modest range (200 to 300 miles), this is a pure recreational bird. Standard Price: "about" $60,000. Contact:
www.interplaneaircraft.com
.
Fantasy Air Allegro 2007
From the Czech Republic comes the Allegro, which has been produced for nearly 15 years and is the third-ever S-LSA to gain ASTM certification. The Kevlar-composite fuselage supports aluminum wings and a T-tail. The aircraft is Rotax-powered with a modest 350-mile range, 1,000 fpm climb, 104-knot cruise and under-35-knot stall. It's currently out of production, but it's expected to be produced in the United States later in 2009. Standard Price: $84,000. Contact:
www.fantasyairusa.com
.
Aeropro Aerotrek
The Czech-built Aerotrek, formerly EuroFox, comes in two flavors, the A220 taildragger and A240 tricycle gear. Light and speedy for a metal-cage/fabric-covered S-LSA (95-knot cruise), with no-pitch-change flaperons and a 44-inch-wide cabin, the sporty airplanes lift a surprising 591 pounds. Standard Price: $62,950. Contact:
www.fly-aerotrek.com
.
Indus Thorpedo
Designed and built in the United States, the Thorpedo offers years of aircraft construction and flight-performance savvy and refinement. The latest model has a sleek new cowl, light-emitting-diode (LED) wingtip/landing lights and a 120 hp Jabiru 3300 engine that delivers a 1,020 fpm climb. Standard Price: $85,995. Contact:
www.indusav.com
.
3I Sky Arrow
Italian aircraft maker 3I (Iniziative Industriali Italiane) has been building aircraft since 1947. Its
FAR
23–certified aircraft morphed into the Sky Arrow 600 S-LSA, which boasts a long, huge-view tandem cockpit, carbon-fiber composite airframe, Rotax 912 engine and modular-assembly philosophy for quick replacement or repairs of wings, tail, panel and powerplant. Equipped Price: $105,000. Contact:
www.hansenairgroup.com
.
Page 3 of 7