Tuesday, June 23, 2009
LSA Roundup
Light-sport models and avionics to suit all budgets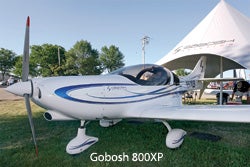 SkyLeader 600
SkyLeader Aircraft markets this handsome all-metal, low-wing airplane, known previously as the Kappa KP-5. Made in the Czech Republic, the latest 600 model boasts new winglets, an industry-leading 50-inch-wide bubble canopy, a 28-gallon fuel capacity for seven hours of endurance, a steerable nosewheel and power from the industry-standard Rotax 912 UL, 912 ULS or 914 UL engines. Standard Price: $120,000. Contact:
www.skyleaderusa.com
.
Gobosh
Rakish, flowing lines and two lively low-wing versions (composite 800XP or all-metal 700S) position Gobosh to appeal to just about any segment of the LSA market—from training to cross-country cruising—in style. The 800XP is built in the Czech Republic; the 700S is made in Poland. Standard Price: $123,700 (800XP). Contact:
www.gobosh.aero
.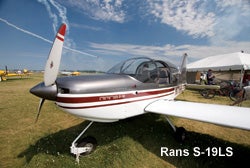 Rans S-19LS
Rans Aircraft produces three varieties of S-LSA: the high-wing S-6LS Coyote and S-7LS Courier, and the low-wing S-19LS. "Cruisiest" is the all-aluminum monocoque construction S-19LS, which cruises at 111 knots (75% power) or 104 knots (65% power) and has a useful load of 500 pounds and a range of 610 miles. Standard Price: $123,000. Contact:
www.rans.com
.
Evektor SportStar Max
The very first S-LSA to receive ASTM certification, the Czech Republic–built SportStar, continues to evolve; its latest iteration is the Max. The all-metal, low-wing design features corrosion-proof anodized aluminum construction with riveted as well as bonded joints. Steerable nosewheel, hydraulic brakes and excellent performance (110-knot cruise and 1,020 fpm climb) are just the openers. Standard Price: $118,000 (SportStar BT). Contact:
www.evektor-aircraft.com
.
Zlin Savage
Another design from the Czech Republic, the Savage is a two-place tandem taildragger that's reminiscent of the Piper Cub. It comes in three models (Classic, Cruiser and Cub) and offers lots of options. The TIG-welded chrome-moly-steel fuselage and aluminum-frame, fabric-covered wings (each with a nine-gallon tank) sport 35-degree flaps, a 562-pound payload, a +6/-3 G-load and a floaty 33-knot stall speed. Standard Price: $70,000. Contact:
www.savageaircraftsales.com
.
FPNA Valor A22
Built in the Ukraine and imported for assembly and finish in the United States, the Valor A22 and its floatplane version, the Cape Town, offer sporty design, lots of cabin room (with 52 inches at the bubbled side doors) and superb all-around visibility, especially for high-wing aircraft. The all-metal, flaperon-equipped flivvers cruise at 90 knots. Standard Price: $79,999. Contact:
www.fpna.com
.
Page 4 of 7