Tuesday, June 23, 2009
LSA Roundup
Light-sport models and avionics to suit all budgets
T&T Falcon LS
One of the few LSA offering conventional powerplants (Lycoming O-235 or Continental O-200), the profoundly racy-looking Falcon LS also comes powered by a Rotax 912S and Jabiru 3300. The Kevlar/carbon beauty has a steerable nosewheel, electric trim and a lovely one-piece canopy. The U.S.-made Falcon is newly ASTM-certified. With the Rotax, its useful load is 552 pounds, and max cruise is 110 knots. Contact:
www.tandtaviation.com
.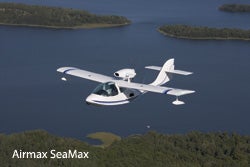 X-Air LS
The X-Air LS is based on a successful overseas microlight tube-and-sailcloth design that's now 60% built in the United States and ASTM-certified. You won't get there first with its 90-knot cruise, but you'll get up quickly (under 300 feet), enjoy a full-fuel payload of 481 pounds and have a lot of fun along the way. Standard Price: $50,000. Contact:
www.x-airlsa.com
.
Airmax SeaMax
The SeaMax is the perfect airplane for "biwingual" enthusiasts: pilots who want both water and land flying. Made in Brazil, the amphibious beauty cruises at 100 knots, touches the water at 31 knots (flaps) and drives around like an airboat or Jet Ski! The aircraft features composite construction, a 25-gallon fuel capacity and a roomy 47-inch-wide cabin. Standard Price: $137,000. Contact:
www.seamaxusa.com
.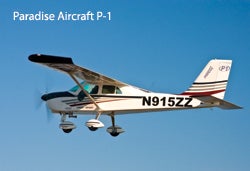 Italia MD3 Rider
One of the "friendliest" high-wing LSA out there is this cutie from Italy. It's a very forgiving, easy-to-fly airplane—perfect for the training environment. The all-metal semi-monocoque structure is glued and blind-riveted, has full dual controls, cruises at 112 knots and stalls at 33 knots. Climb rate is impressive at 1,180 fpm, and handling is light and balanced. Equipped Price: $129,995. Contact:
www.flyitalia.us
.
Paradise Aircraft P-1
Beautifully finished and roomy enough (once you remove the right seat) to transport golf clubs or other large objects, this S-LSA version of the popular Brazilian homebuilt is all metal: aluminum skin over 4130 chrome-moly-steel tube structure. The aircraft is also available in a hands-only control version for handicapped pilots. Solid aluminum spring gear and a low 33-knot stall are only some of the P-1's attractive features. Standard Price: $108,830. Contact:
www.paradiseaircraft.us
.
Page 5 of 7