Tuesday, August 9, 2011
Masters Of Glass: LSA Avionics Roundup
High-tech, affordable glass panels continue to impress with amazing innovation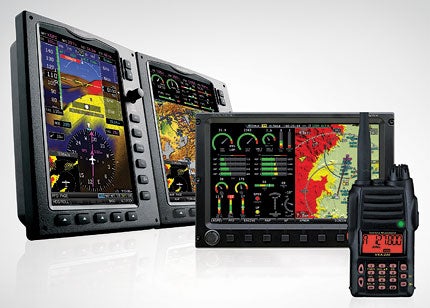 Garmin G3X; Dynon SkyView; Vertex VXA-220
The economy hasn't dampened the resolve or enthusiasm of the avionics industry, which continues its feverish develop-ment of ever-more-spectacular instrumentation to help us fly with greater awareness, safety and simplicity.
The power and sophistication of glass panels for today's LSA and light experimental-built aircraft are nothing less than mind-blowing. Features such as synthetic vision, and 3D terrain painting and moving-map GPS—typical of FAA-certified systems costing many times more than the noncertified systems legal for LSA and homebuilts—have driven an explosive mini-movement that should only gain momentum.
Glass panels are so common now, you see steam gauges being used as backups or for low-budget instrumentation. Yet you can buy full-featured GPS navigation and engine-monitoring systems with traffic alert, two- and three-axis autopilot, XM Weather, touch-screen sectional moving maps, transponders, sophisticated NAV/COMs, in-flight music, even built-in video and photo cameras, for a few hundred to a few thousand dollars. Incredible!
Dynon Avionics—SkyView
LSA avionics powerhouse Dynon Avionics keeps enhancing its advanced glass-panel avionics platform with software upgrades. The SkyView Integrated Glass Panel System (7-inch and 10-inch screens) sports jazzy features like moving-map GPS, Highway-in-the-Sky and MFD...at a fraction of the cost typical of the dynamic LSA avionics industry.
Two recent developments: a flight-planning menu and the addition of Jeppesen NavData and obstacle services for SkyView. The flight planner enables multileg flight plans, on-screen waypoint entry and import of .GPX-file-format flight plans created at home. Jepp's software brings worldwide navigation data to LSA and experimental cockpits.
Other mainstays in the Dynon Avionics quiver include the widely adopted Dynon EFIS-D100, EMS-D120 and FlightDEK-D180 systems. Price: $4,835 (SkyView). Contact:
www.dynonavionics.com
.

Icom IC A24
Icom Radios
Icom's IC-A24 and IC-A6 NAV/COM handhelds offer compact size, one-handed operation (helpful for bumpy flights) and 200 memory channels along with a large display with easy-to-read letters and numbers. The display screen and keypad are backlit and stay that way until you turn it off.
A flip-flop button on the front quickly recalls the last 10 channels used. The external DC jack accepts a wall charger, BC-110 or cigarette lighter cable. Optional battery packs available, too: alkaline, Ni-Cd and Li-Ion.
The IC-A210 panel mount has a big, bright, adjustable OLED display, great for day or night viewing. Channel selection (200 group memory, 10 regular memory—with assignable names) is easy. Built-in voice-activated intercom, GPS memory function, a NOAA weather channel and one-touch 121.5 MHz emergency access round out a rich feature list. Price: $599 (IC-A24); $499( IC-A6); $2,316 (IC-A210). Contact:
www.icomamerica.com
.
Page 1 of 4