Tuesday, August 9, 2011
Masters Of Glass: LSA Avionics Roundup
High-tech, affordable glass panels continue to impress with amazing innovation
TL Elektronic
The EFIS & EMS INTEGRA TL-6624 multifunctional system monitors flight and engine with primary flight and engine instruments, HSI, 3D terrain mapping, headphone voice warnings and much more. All the primary flight instruments, such as ASI, VSI, altimeter, even angle-of-attack indicator are accessible. You get engine readouts for virtually every aviation engine made worldwide, including RPM, fuel-flow pressure, EGT, CHT, fuel level and more, in one easy-access package. The 7-inch display makes for enhanced readability over smaller screens, too. Price: $3,190. Contact:
www2.tl-elektronic.com
.
TruTrak Flight Systems
TruTrak, a leading provider of autopilots for many production S-LSA, also makes EFIS and EMS flight displays. Its EFIS GP panel mount has EFIS (and optional EMS) display for airspeed, altimeter, artificial horizon, VSI, gyro, heading and altitude bugs and more. Upgrades include one-axis or dual-axis autopilot and GPS Nav Mode and other features. Price: $2,200. Contact:
www.trutrakap.com
.

The Stratomaster Engima from MGL Avionics features a moving map, engine monitoring, checklists, a weight-and-balance calculator and much more.
MGL Avionics
The completely redesigned Enigma EFIS Mk II with integrated GPS is a highly configurable, low-cost package that does it all: EFIS/EMS/Navigation. A new, super-bright (1600+ nits), 5.7" display screen comes with super-wide viewing angles and enhanced contrast for better viewing on the brightest days—at the same power consumption as the previous model. Another plus is a broader ASI speed range: 24 to 510 knots. Beneath the hood, state-of-the-art multiprocessing brings top-notch features, like voice terrain warning, nine programmable screens, GPS moving map, engine monitoring, checklists, weight/balance calculator, autopilot capability and more. Price: $2,660, many options. Contact:
www.mglavionics.com
.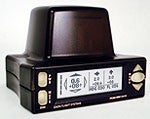 Zaon's PCAS XRX portable traffic avoidance data can link into GPS moving map and EFIS display systems.
Zaon PCAS XRX
This small, portable, stand-alone collision avoidance system sits on the glareshield and can also link into GPS moving map and EFIS systems and display traffic in TCAS-like symbology. Dynon's SkyView now integrates with the XRX to provide location, severity of threat, distance, vertical separation and heading of any aircraft with the traffic system's range.
For pilots on a budget, there's the MRX, not only the world's smallest collision-avoidance device, but also loaded with all the features of high-end systems. Portable, around half the size of similar devices, it still offers relative altitude of ±2500 feet to ±500 feet, with ascending/descending indicator, built-in altimeter for real-time accuracy, audio threat and advisory alerts, and more: a real bargain for traffic avoidance. Price: MRX $549; XRX $1,495. Contact:
www.zaon.aero.com
.
PS Engineering PM3000
Top-quality cockpit audio control is PS Engineering's prime directive. Its panel-mount PM3000 hi-fi stereo intercom has top-notch VOX, squelch controls, adjustable LED power and transmit intensity, single squelch control knob for simple and quiet operation, and separate pilot/copilot transmit capability. A pilot-isolate feature separates the pilot from others on board, and an optional digital recorder can provide up to one minute of storage for radio transmissions. Price: $493. Contact:
www.ps-engineering.com
.
Becker Avionics
The Austrian company's solid-state BXP6403-2 Mode-S Transponder is a compact, lightweight 160mm panel mount that features VFR/IFR operation up to 50,000 feet. Price: $2,850. Becker's AR 4201 VHF Transceiver is another LSA-sized instrument that mounts in a 21⁄4-inch hole and has 20-channel memory. Price: $1,750. Contact:
www.becker-avionics.com
.
Page 4 of 4