Tuesday, February 23, 2010
Now And Future LSA
An overview: Five years in, LSA are hanging in there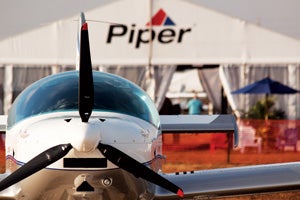 PiperSport
Big Boom:
Piper Aircraft, with masterful if serendipitous timing, debuted the PiperSport at Sebring. The airplane is a rebranded, popular, Czech-built low-winger that has turned heads for years as the SportCruiser. Piper didn't buy a stake in Czech Sport Aircraft, choosing instead to lock up global distribution. SportCruiser, already flying in impressive numbers—hundreds worldwide, 100+ in the States—will still be built in the Czech Republic as the PiperSport, albeit, we can assume, with Piper input and oversight. Perhaps Piper's biggest kudo over Cessna: Its LSA are set for first deliveries in April. If this was poker, Piper just put down four aces, infusing new legitimacy into the LSA industry overnight.
Bust:
Cirrus Design, best-selling purveyor of single-engine GA planes, suspended its own LSA project, the SRS. This pretty low-winger has wowed pilots across the pond as the Fk 14 Polaris. Alas, Cirrus's economic setbacks likely have doomed the project.
Boom And...Huh?:
And then there's Remos, which, like Icon, made a strong marketing push in 2009 with a high-profile, big-bucks presence at major air shows. Company execs brashly promised that Remos' lovely line of high-wing, composite aircraft soon would be numero uno in LSA sales. At its Aviation Summit last November, AOPA jumped on the bandwagon by naming the Remos GX its first-ever LSA sweepstakes plane. Remos seemed bound for light-sport glory. Indeed, according to LAMA President Dan Johnson, Remos sold 32 aircraft last year: the best U.S. sales record of 2009. Note: SportCruiser (once-and-future PiperSport) sold 31.
Alas, Remos' bubble, while not burst, wobbled back onto the grass a scant month later as it laid off some U.S. personnel and dealt with rampant rumors of liquidity problems. The company quickly put out press releases that it had "strengthened its capital base" by acquiring new investments, following reports of scrutiny into its financial affairs by the German government.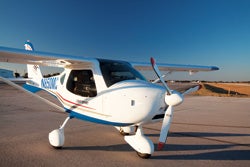 Flight Design MC
Reading Some Tea Leaves
LSA growth and maturation likely will continue with mood swings for the near future. It's the Gold Rush again: Talented designers at home and overseas have new tools for design and economical construction. And veteran fabricators overseas often work for much lower wages than in this country.
Even with the euro/dollar mismatch, more LSA-style aircraft will be designed and produced: There's a strong and growing recreational aviation market abroad. If the euro should crash, as some financial wizards predict for later this year, U.S. buyers may see prices drop, but not dramatically.
The LSA infrastructure of schools and repair stations grew last year, but has a long way to go. Flight Design USA, the leading airframe distributor (with more than 300 U.S. sales), has broadened its training network to 21 locations nationwide. Other distributors and manufacturers are working hard to place their aircraft in training ops.
And LSA flight-training fleets are expanding as old Cessnas and Pipers continue to wear out. Veteran GA flight schools like Lou Mancuso's Mid Island Air Service in New York (5,000 pilots since 1946) and Florida Institute of Technology (two Remos GXs joined its flight line of 41 GA trainers) are only two of many.
The story repeats across the country as established flight schools and small, one-man operations pop up everywhere. Doug Stewart, 2004 CFI of the year, gives LSA instruction and rental checkouts throughout New England, and Santa Monica Flyers in California trains pilots in a SportCruiser.
Then there's the sticky problem of ownership. Current top-of-the-line LSA cost upwards of $110,000. The least expensive S-LSA (ready built) is the X-Air LS, a cute Dacron-sailcloth-covered flivver priced at $59,995. [Read our review of the X-Air LS in
P&P
May 2010.] Veteran U.S. manufacturer Rans Aircraft is a close second with the S-6ELS at $63,000.
As potential students and budget-watching buyers shake off 2009's economic gloom and doom, and reemerge into the aviation sunlight, pride of sole ownership—that vaunted American tradition—may give way to new frugality, through shared ownership or that old local-airport standby, the flying club. Once buyers realize they can have most ownership benefits at a fraction of the cost (through such shared-ownership programs as LetsFly.org and the Aircraft Partnership Association), we may see a real uptick in sales ahead.
Page 2 of 6