Tuesday, July 17, 2012
Wings Of Freedom
A brief review, some reminiscence and a broad-stroke celebration of Light-Sport Aircraft
Today, even with the sluggish market brought on by global economic woes, the flood of innovative LSA designs continues apace. Tube-and-fabric flivvers, sleek composite cruisers, all-metal cross-country ships, J3 Cub clones, a fully aerobatic biplane and monoplane, ultralight-style trikes and even a slew of powered parachutes all grace the category with its lively, kaleidoscopic persona.
LSA also have become a flying proving ground for a fabulous array of non-certificated but reliable digital avionics that cost a mere fraction of their GA equivalents. The Rotax 912 engine (and now the new 912iS fuel-injected model), with a 2,000-hour TBO and installation in thousands of aircraft, has also proven itself. And the new Lycoming IO-233-LSA power plant is gaining traction for those lovers of "conventional" aircraft engines, along with custom mills from Jabiru, CubCrafters, HKS and other makers.
Jamming The High-Cost Argument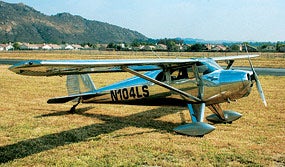 Luscombe

Every certified aircraft ever built that fits within the light-sport definition is legal for a sport pilot to fly. That happy group includes all those wonderful old flivvers of yesteryear...and they're often successfully wooed for considerably less than a new, or even used, LSA. Here's a brief list with some current low-end, online-advertised prices:

• Aeronca and its many variants ($17,000)
• Ercoupe ($16,000)
• Luscombe 8 through 8D ($14,500)
• Piper Cub J3 and tons of variants including the Special, Vagabond and L-4 ($26,000)
• Porterfield ($28,000)
• Quicksilver GT500—primary aircraft category, ultralight style ($24,500)
• Taylorcraft ($12,000)
• Caveat: Many of these classics are decades old and in various conditions of airworthiness, and some are downright rebuild projects. Current airworthy, good-to-excellent condition versions of each will typically go for significantly higher prices, but all the listings above were for flying aircraft.
Even the flying automobile is getting a rebirth of sorts with two designs: the powered paragliding dune buggy Maverick, already in production, and the Terrafugia Transition, still in development after six years, but hey, the second prototype is flying and is road legal. And let's not forget the WWII German Storch 3⁄4-scale replica for flying history buffs.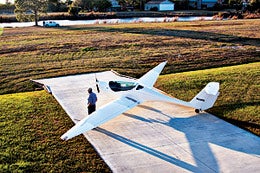 Phoenix
Gratitude...With Reservations
We live in an amazing time. Yes, the unfavorable dollar/euro exchange rate has jacked up prices on foreign-built LSA. And the recession has put the brakes on everybody's discretionary spending. Yet the light-sport category and sport- pilot license still offer recreational flight that's more affordable, more diverse and more accessible than arguably any other mainstream sector of aviation since Wilbur and Orville made that immortal hop at Kitty Hawk. Freedom is still very much the name of the game.
For those who decry the high cost of top-line LSA, many of which carry a price tag well beyond $100,000, there are such entities as the Aircraft Partnership Program, created by Bob Kruger and now implemented by AOPA. AOPA handles all aspects of putting together and helping to manage partnered ownership.
Page 2 of 6