Tuesday, July 17, 2012
Wings Of Freedom
A brief review, some reminiscence and a broad-stroke celebration of Light-Sport Aircraft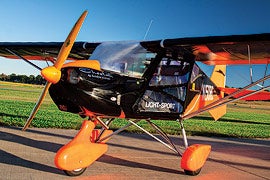 BushCat
As LAMA (Light Aircraft Manufacturing Association) head Dan Johnson wrote recently, several LSA makers, among them Arion (Lightning LS-1), U.S. Sport Aircraft (SportCruiser), Remos (GX series) and Flight Design (CT line) have worldwide dealer networks.
Meanwhile, the most dramatic boost recently to growing the global light-sport market is the creation by EASA (FAA-equivalent European Aviation Safety Agency) of the long-awaited CS-LSA category. Three aircraft have already been certified under the new type: Flight Design's CTLS-ELA, Czech Sport Aircraft's PS-28 Cruiser (the original SportCruiser and one-time Piper Sport) and Evektor's SportStar RTC (for restricted type certificate).
As in the U.S., CS-LSA aircraft are limited to two seats and a max of 1,320 pounds all-up weight, and must be flown with LSA-similar airspace restrictions. The good news is tempered by a significant downside for smaller LSA manufacturers though: Although EASA accepts the ASTM standard, it also imposes its own stiff certification costs. Simply put, CS-LSA is more like an FAA-style type certification, and will bring higher production costs to manufacturers, which will be passed on to buyers.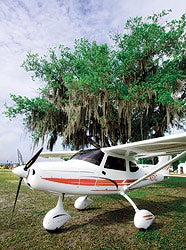 TL 3000 Sirius
Still, this development does mean that American producers able and willing to pony up and jump through the EASA hoop now have a clear path to selling S-LSA in Europe. There's also more potential incentive for the Euro-buyer that's not allowed in the U.S. LSA category: the EASA certificate will allow commercial use, including charter and other for-hire activities. For potential owners, dealers and flight schools seeking ways to maximize the earning potential of LSA purchases, that could make the higher price pay off in the long run.
Still, not every company with deep pockets is eager to jump on board the EASA bandwagon as it currently stands. Cessna has put a halt to its European sales, complaining that the CS-LSA rules are just too costly. Big C says it may resume European sales, if it can convince EASA to modify and adjust downward its certification tariff. Since the Skycatcher is already listed at $149,900, although that includes some standard features that are optional on other LSA, you can understand the company's reticence to compete across the pond.
But the overall trend looks positive, if improvement seems glacial sometimes. The global market and regulatory framework are maturing—ultimately a good thing for the LSA industry.
For would-be students, veteran pilots and everybody in between, there's a rich and colorful world of flight waiting for you. Go out and learn to fly a taildragger, spend $10 to $15 an hour on gas for a lazy flight above the countryside, or take your sweetheart or best pal for a long cruise in comfort at over-100 knot speeds. Or hop in an acro bipe and turn yourself upside-down.
All that's waiting is your desire, because whatever your pleasure, you'll likely find an LSA to match it.
Page 5 of 6