Friday, June 1, 2007
I Need A Price Check On Runway 6, Please
User fees have the potential to significantly change the way we fly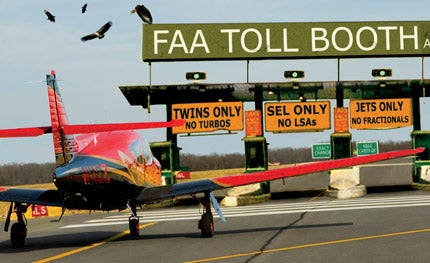 On February 5, 2007, President Bush released his 2008 fiscal year budget. Fears of how the budget would affect aviation came to fruition with a proposed budget cut of $1 billion off of the present funding level of $14.3 billion. A week later, the government declared that they'd be looking for a closer matching of costs to benefits; additionally, they recommended increases in the fuel tax and the implementation of several user fees. To make matters worse, if the budget goes through as presented, general aviation will be at war with commercial aviation about who and how much each side will have to pay for the right and privilege to fly. And the clock is tickling—funding for the FAA expires on September 30, 2007.
At stake is the cost to run a branch of the government, the FAA, which has approximately 14,500 air traffic controllers watching over almost 3,400 airports in 316 ATC facilities throughout the United States. As a side note, our ATC force is beginning to age. By the year 2015, approximately 75% of the controllers will be eligible for retirement. This creates a demand for 11,500 new hires over the next 10 years, which equates to an average of 1,150 new jobs per year. If a career as an air traffic controller is in your blood, now is a good time to submit your employment application.
The proposed 2008 federal budget has the potential to stymie general aviation with expenses and fees in much the same way the issue of product liability affected aviation in the 1980s and 1990s. If you remember, aircraft manufacturers pretty much ceased to produce single-engine aircraft because of the exorbitant product liability insurance costs that were tacked on to the cost of producing an airplane. So, we went through a period of several years when we were flying around in airplanes that were beginning to age, and there were no replacement airplanes on the production line.
Presently, the FAA gets funding from two sources: excise taxes from aviation taxpayers and a general fund that's supported by all taxpayers. President Bush is expecting the users of aviation services to pay for the cost of those services. But just who are the users of aviation services? We'd all agree that pilots are users. Commercial passengers are users. But what about the economic impact to a community in the form of businesses and jobs that are generated by the aviation industry? If you remove pilots from the equation, then you'll rapidly remove aviation from the community.
The FAA projections of this budget indicate that piston-engine pilots will see a tax increase of $100 million, or a 344% increase. Turbine aircraft are projected to see a tax increase of $868 million, or a 333% increase.
Fuel taxes are being targeted as an additional source of funds. Under the proposal, the current tax of 19 or 22 cents per gallon would be raised to more than 70 cents per gallon. This doesn't sound like much—only 50 cents a gallon—until you start computing the gallons consumed on an hourly basis. Keep in mind that the average GA flight is between one and two hours. Then you have to get back home. Businesses will reflect this extra cost of doing business in the price of their products. To me, this sounds like the inflation that the government says it wants to keep in check.
But what about nonbusiness pilots who fly for pleasure. Many of these pilots may be wealthy, by someone's standard, but there are other pilots with "normal" levels of income who spend their disposable income on flying. That $100 hamburger is going to cost a whole lot more. These pilots are the heart and soul of general aviation. They're the pilots who generate an economic impact to their community by using aviation goods and services provided by local aviation businesses.
Page 1 of 3