Wednesday, September 1, 2004
Just Tires?
Very few pilots realize how important they really are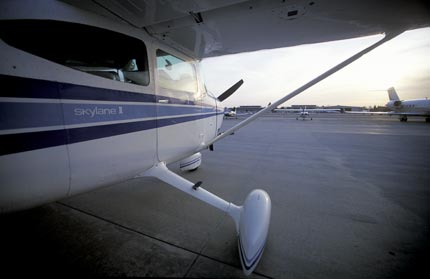 When we were student pilots, we were told to check the tires for condition and inflation before each takeoff. But as we progressed in our flying careers, some of us have taken tires for granted. Sure, we're careful to check the "important" stuff—engine oil, fuel, headset batteries and radios—but we keep tires on a second-class status, merely glancing at them to make sure that they're all accounted for and aren't flat.
Continuing this bad habit, however, does have serious consequences. So perhaps it's time to go back to the basics and take a look at tires in a whole different light because, in the whole scheme of things, they're just as important as the rest of the components of an airplane.
The Trouble With Tires
For most of their lives, airplane tires don't do much except keep the metal parts of the airplane off the ground. For brief periods, though, they work hard—especially during taxi, takeoff and landing. As airplanes get heavier, the margin in the tire loading goes down; as airplanes go faster, the margins become even thinner. With a high-performance airplane, the tires aren't underutilized; in fact, they're at their optimal design point—neither too large nor too heavy—for their intended task. That means that the tires need to be kept in excellent condition, and one way to assure that is to check the inflation, which, according to industry experts, is the single, most important parameter of a tire's life, load, maintenance and safety.

One thing to keep in mind is that tires leak. Industry standards permit as much as a 5% pressure drop per day. So that means that even if you had an annual a week ago, your tire pressure doesn't count for anything today. Even "perfect" tires can lose 1% to 2% of their pressure a day; and if the temperature changes dramatically, the air in the tires expands and contracts all by itself. And hours after you've checked your tires, a drop in air temperature can reduce the tire pressure to a dangerously low level.
It's possible to overinflate, too. Not only do you run the risk of having the tire and/or wheel explode with tremendous force, but you also can get some undesirable handling.
Cody McCormick, an insurance underwriter who was the ground control approach chief at Troy, Ala., remembers, "I saw a guy with a new Maule with tundra tires on it down in KTOI. After about 10 touch-and-goes [with the tires properly inflated], he decided that he didn't like the look of the soft tires, so he put about 24 pounds in them. He did 10 touch-and-goes on his next landing—I've never seen an airplane bounce so high so much, so far."
But what about using nitrogen? Rob Robson, Goodyear's aviation tires product support manager for North America, says, "If you can get dry nitrogen, that's a good thing because it reduces corrosion on wheels. Oxygen also can affect the rubber. And nitrogen has the additional benefit of being non-combustible."
Page 1 of 3