Tuesday, September 21, 2010
A New Lease On Flying
Retrofit avionics can add a lot of capability for not a lot of money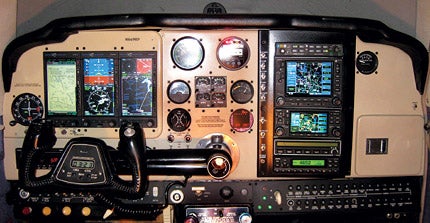 An Aspen Avionics installation on Bill Fanning's 1980 BE-36 Bonanza
I was talking to my airline-pilot friend the other day. Though he came through the ranks of general aviation via an accelerated training program, he no longer stays close to GA in terms of the latest developments. He hasn't been out of GA for very long, but as far as the developments he's missed, nothing comes close to the strides made in avionics over the last few years.
It was fun watching my friend's eyes widen as I told him about innovations like enhanced vision systems (EVS) that use thermal-imaging cameras to capture an infrared view of a pilot's surroundings and display them on a screen. I told him about the latest touch-screen GPS units and the unmatched efficiency of using digital charts in the cockpit instead of the paper ones he's used to. We talked about electronic circuit- breaker systems, the latest graphical engine- management displays and the incredible "slide-in" modular flight displays and integrated flight decks that are available.
But the best part was telling him that all these things are available as relatively inexpensive (ok, not all of them) after-market products. I relayed the story of a pilot I know with a biplane that has multiple GPS units, real-time weather, a Garmin G600 glass cockpit and an all-digital instrument and audio panel. He just shook his head in amazement. All he could muster was, "I can't believe it because we don't have half of that stuff in our jet cockpits!"
All he could muster was,

I can't believe it because we don't have half of that stuff in our jet cockpits!"

The fact is that retrofitting airplanes with advanced capabilities isn't only possible but is becoming the norm rather than the exception. By adding new components, owners of older airplanes can keep up with technology, add to safety and situational awareness and even increase performance. It doesn't have to be expensive. Even in my own little Great Lakes biplane, we've added multiple GPS systems, a digital engine analyzer and a new digital audio panel so we can listen to our MP3 player while cruising along above the countryside.
But with so many options and so many retrofit devices and avionics facilities out there, how do you know what you need? The answer is really based on the pilot, the mission (the real one, not the "hoped-for" one) and the budget. A retrofit can be something as simple as adding an engine-management instrument or traffic-advisory system, or can stretch into adding a three-panel glass-integrated flight deck with more capability than the Airbus flying far above you.
Page 1 of 4