Tuesday, September 21, 2010
A New Lease On Flying
Retrofit avionics can add a lot of capability for not a lot of money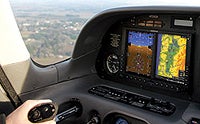 Garmin G600 in a Cirrus SR22
Information Is Power
Knowing what your engine is doing is probably one of the most important considerations in retrofit avionics. While a fancy navigator can get you through any weather imaginable, it won't do you much good if your engine quits in the soup. A good place to start is with some type of engine analyzer or engine-management system. The great thing is that the price can go from quite reasonable for a basic EGT/CHT instrument, to a few thousand dollars for the whiz-bang, color-filled, bar-graph engine display. But what counts is knowing the health of your engine at all times. That knowledge establishes a great foundation for upgrading the rest of your airplane. Starting with that aspect is a relatively inexpensive upgrade with minimal hassles.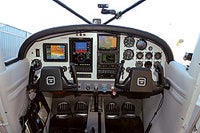 Sagem and Garmin avionics on a Cessna 182
To Glass Or Not To Glass
Glass cockpits have certainly become the darling of the aviation world. There are lots of excellent choices for retrofit here, including the beautifully modular approach that allows you to slide the new glass unit into existing panel space. But you don't have to go crazy to realize the benefits of the glass-cockpit world. Many of the manufacturers listed here offer mix-and-match components so you can go from a basic glass-panel display to clean up your panel, all the way to a fully instrument-certified integrated flight deck. There's nothing wrong with flying on steam gauges and enhancing your panel a little at a time.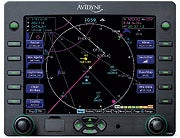 Avidyne EX600
The Sound Of Music
One area in avionics retrofit that has really come a long way is the audio panel and intercom. For not too much money, pilots can retrofit their older airplane with a newer audio panel. One huge benefit of even the most basic new audio panels is that they can accommodate MP3 players (like iPods) so you and your passengers can enjoy music as you fly. If you've never experienced flying while listening to your favorite music from a good audio panel, you're really missing one of the great sensory pleasures of aviating. A new audio panel could include a new com radio with modern efficiency, power, frequency response and reliability. The improved sound and greater clarity is a safety boon for any pilot.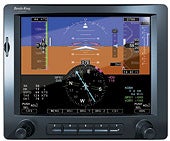 Bendix/King KFD 840
Mother Nature And Crowded Skies
Next up on the retrofit-avionics list is to add one of several panel-mount weather-information systems. Nothing adds to safety like knowing what to expect, and with today's near-instantaneous weather information availability, having the latest weather in your cockpit could save your life. A portable receiver and a subscription to one of the satellite weather reporting systems like XM is a reasonably priced way to add to your knowledge of flight conditions before the flight. Along the same lines, traffic information becomes dispensable in certain areas of the country. Like real-time weather, knowing what traffic around you is doing is one of the greatest developments in the avionics field. Again, portable receivers and basic panel-mount displays add a lot of safety and confidence each time you fly.
Page 2 of 4