Tuesday, October 4, 2011
Choice Aftermarket Stops for Turboprops
Put new life in your legacy turboprop or bring a high-performance piston into the jet age! Aftermarket specialists can upgrade your engines, retrofit your interior, install a glass panel and more.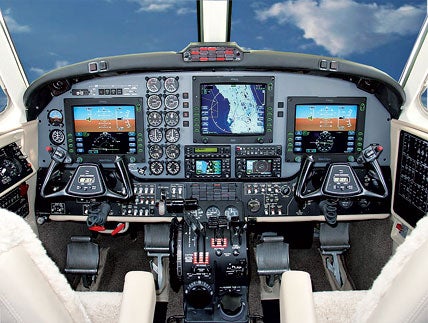 American Aviation
American Aviation Inc.
American Aviation at Coeur d'Alene Airport in Idaho offers modifications for Beechcraft King Airs, Piper Cheyennes and Cessna Conquests. For King Air 100, E90, F90, 90, A90, B90 and C90 through the 1983 C-90-1 series aircraft, the mods include Ram Air Recovery System, streamlined oil-cooler cowlings and aerodynamic speed stacks. Cheyenne I, II and IIXL models can get aftermarket exhaust pipes and Ram Air Recovery Systems, while the exhaust-pipe upgrade is available for Conquest Is. "All of the systems are designed to increase the climb and cruise performance," says company vice president Jim Christy.
American Aviation
www.americanaviation.com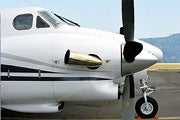 American Aviation Inc.
A certified installer of popular King Air upgrades (Blackhawk, BLR, Raisbeck and others), American Aviation, located at Hernando County Airport in Florida, specializes in avionics solutions. Its Alliant King Air Flight Deck features dual large-format Avidyne EXP5000 PFD screens and an S-TEC IntelliFlight 2100 digital multi-axis autopilot. Each EXP5000 contains an integrated solid-state air-data and attitude-heading reference system (ADAHRS). Avionics manager Jason Francis notes the company also installs G1000, GTN 750/650 and G600 panels in various King Air models, and has installed a GTN 750 in a Pilatus PC12.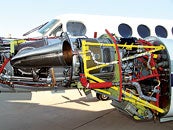 Blackhawk
Blackhawk Modifications, Inc.
www.blackhawk.aero
Pioneering engine-upgrade provider Blackhawk Modifications, Inc. of Waco, Texas, holds STCs for replacing the engines in King Air 90 and 200 series, and Cessna Conquest I and Cheyenne I, IA, II, IIXL aircraft with new PT6A variants. Now, Blackhawk offers an upgrade for the Cessna Caravan 208B. The XP42A upgrade replaces the stock 675 shp PT6A-114A with an 850 shp PT6A-42A. "The upgrade can pay for itself through increased revenue generation and reduced operating costs," said Jim Allmon, president of Blackhawk. Installations are performed at some 50 authorized Blackhawk facilities in the U.S. and more than a dozen overseas.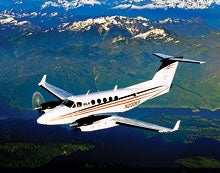 BLR Aerospace.
BLR Aerospace
www.blraerospace.com
The benefits that factory-designed winglets deliver on the King Air 350 are available for King Air 200, 300 and C90 series aircraft with aftermarket winglets from BLR Aerospace. The aluminum and carbon-fiber Winglet Systems increase the wing aspect ratio and diminish induced drag. The winglets "improve most phases of flight including short-field take-off, climb, high-altitude operations, cruise, speed, fuel burn, handling qualities and slow flight," says Dave Marone, BLR's Vice President, Sales & Marketing.
CenTex Aerospace

www.centex.aero
CenTex Aerospace, based at Waco Regional Airport in Texas, has STC modifications aimed at boosting gross weights. For C90 King Airs, the HALO 90 upgrade increases payload from more than 250 to more than 700 pounds, depending on the model of C90. On the drawing boards, the HALO 250 STC will increase gross weight for King Air 200 aircraft to 13,500 from 12,500 pounds, and HALO 295 STC will up gross weight to 14,000 pounds. The STCs will require no airframe modification, according to CenTex.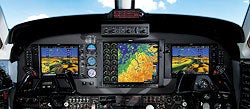 Cutter Aviation
Cutter Aviation
www.cutteraviation.com
Go glass in your legacy King Air, Piper Meridian or JetPROP. Phoenix-based Cutter Aviation performs Garmin G1000 aftermarket avionics installations in King Airs (as well as installing King Air aftermarket upgrades, including Raisbeck and Blackhawk products), and has an STC to install Garmin G950 glass panels in Piper PA46 Meridian and JetPROP turboprops. The company notes that both units are RVSM compliant, and that removing the legacy avionics can save up to 350 pounds of weight. According to Zach Sands, Cutter is also considering offering the G950 installation for TBM 700A, B and C2 models.
Page 1 of 2
Labels:
Aviation Resources
,
Buyer's Guide
,
Features
,
Modifications
,
New Products
,
Pilot Guide
,
Pilot Resources
,
Pilot Supplies
,
Pilot Gear
,
Best Buys
,
What's New