Thursday, May 1, 2008
Flying With Speed Brakes
Speed brakes can ease the process of descent and landing, and they can even decrease engine wear and tear on piston aircraft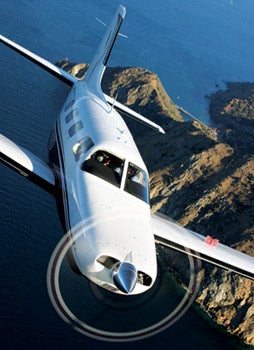 I was flying with a buddy in my Mooney, returning from a Saturday hamburger flight. We'd come home from the desert via the tall road, high-jumping to 10,500 feet to clear the San Jacinto mountains on the short 120 nm hop back to Long Beach, Calif.
I elected to overfly the LA Basin and head out to Catalina to check on fire damage from the island's recent forest fires. My passenger, Jack, was a new private pilot, still excited about everything to do with airplanes and eager to progress on to higher ratings and faster equipment. My little Mooney was the quickest thing he'd ridden in (except for Boeings), and he was convinced it was a truly wondrous machine. (Obviously, he's a very astute pilot.)
As we began our descent over the Catalina Channel, well south of Los Angeles Class B airspace, I left the power up and popped out the speed brakes. Jack was fascinated as two aluminum brakes per side arced up out of the wings and began to disrupt the airflow.
The Mooney responded as if it had flown into a wall of Jell-O and tried to decelerate, but I pushed over to hold the same speed and watched the VSI swing down to a 1,000 fpm descent. Predictably, the ride was a little rougher, as the brakes interrupted the smooth flow of air across the wings.
I maintained the same speed and gradually reduced power as we descended into thicker air. Vertical speed increased slightly on the way downhill, but airspeed remained the same. As we approached the airport, I reduced power even further, extended the rubber to meet the asphalt and turned downwind at 1,000 feet. I was careful to explain everything that was happening to Jack to minimize any concerns he might have.
Jack had never seen such effortless descent control, and he commented that this was the only way to fly. I noticed him looking out at the right wing twice during the approach but thought nothing of it.
I touched down normally and exited the active runway. As I was switching to ground control, Jack said, obviously a little irritated, "Do you know you left the speed brakes out during the landing? You could have killed us."
I couldn't help smiling a little at his question, but I knew better than to dismiss an honest concern by a passenger, pilot or not. "Jack, that's not the way it works," I said, and to prove it, I asked ground for a taxi back for one more time around the pattern. I left the Precise Flight speed brakes (
www.preciseflight.com
) extended on takeoff and until we reached pattern altitude, then asked Jack to put his hands on the yoke, close his eyes and tell me when the speed brakes were extended.
No big surprise, he couldn't do it. I deployed and retracted the binders several times during our circuit. At a typical 80-knot pattern speed with gear and flaps extended, there was no perceptible change in the Mooney's handling as the brakes cycled in and out.
Page 1 of 3