Wednesday, November 30, -0001
Our 10 Favorite Cirrus SR22S
Airplanes that stand out from the crowd and make us take notice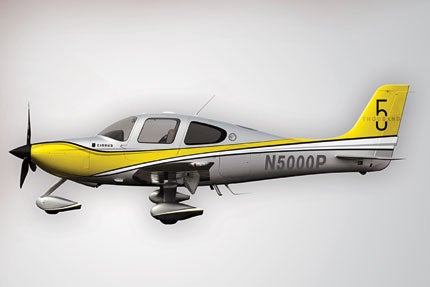 Sexiest
It's fair to say that Cirrus changed general aviation in a way that hasn't been seen since the halcyon days following World War II, when it seemed everybody built airplanes. In those golden years, every design that rolled off the line was embraced by pilots with a sense of breathless enthusiasm. But years of stagnation and economic downturns chipped away at those legendary manufacturers, and an increasingly litigious society made designing new aircraft an expensive and speculative venture. So those venerable legacy airplanes soldiered on, sporting cosmetic redos, overhauled engines and better avionics; each year getting older. And then along came Cirrus.
Cirrus started from scratch with nothing but a blank sheet of paper. They designed their airplane around a sphere instead of a rectangle. They simplified the systems, panel and cockpit of the airplane, committed to new materials and manufacturing methods, and rethought the idea of what a GA airplane is. In the process, they demonstrated that pilots need not be superhuman, square-jawed aviators with "
The Right Stuff
," but could be regular people who just wanted to go from here to there safely and efficiently. Cirrus is turning thousands of would-be pilots into owner pilots, and that's simply good for GA.
Since Cirrus aircraft—and especially the SR22—are spreading like seeds to ramps everywhere, we present a "Top 10" list of sorts, without the late-night band or smarmy host. Instead, we look at what people across the nation are doing with these special aircraft, and offer up our favorites.
Sexiest
In the midst of celebrating 10 years of the SR22, Cirrus is getting ready to deliver its 5,000th airplane. To commemorate the occasion, the designers and engineers pulled out all the stops and created this sizzling rocket. Looking like a Ferrari with wings, this one-of-a-kind SR22 definitely earns the adjective "sexy." "When you're only creating one airplane, it opens up all kinds of design possibilities," says Alex Alequin, Product Design Coordinator for the SR22. "This model is completely innovative, from the asymmetrical paint scheme to the sports-car-like interior." Alequin couldn't say what performance enhancements this 5000th SR22 has (as of this writing, it's still confidential), but he did say, "It's loaded to the gills." This hot number sports a gloss-black, carbon-fiber spinner, and is the first Cirrus to use gloss-black paint on areas like the wheel pants and wingtips. The inside is completely black, except for sunburst yellow accent stripes that echo the outside color and feature a "5 Thousand" logo. Designed like a race car, the black interior offers a high-tech performance feel, with stitched-leather details and carbon-fiber panel accents. Built on the same platform as the Limited Commemorative Edition (LCE), this SR22 opens customers to the world of "Xi"—a new edition that allows buyers to customize virtually anything on their airplane.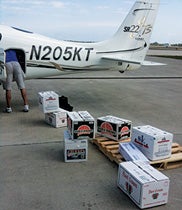 Best Deed
Best Deed
Reading an online pilot board after the tragic Haiti earthquake in 2010, SR22 owner Stuart Smith was touched by a wish list of supplies posted by a doctor. "The list was heartbreaking—it noted things like hacksaw blades for amputations," says Smith. In seeing photos from the devastation, Smith noticed the kids that seemed the happiest had some sort of stuffed animal to hold onto. "Comforting adults were obviously in short supply," he says. Smith and his wife, Tracey, made a plea to a local high school for donations, not really having much of a plan beyond that. "One girl donated her entire collection of 300 Beanie Babies," remembers Smith, "and we got crutches and other medical supplies." They hooked up with Bahamas Habitat, who were coordinating air flights into Haiti, and found themselves a few days later in Nassau flying supply runs to Haiti and Florida in their 2006 SR22 filled with Beanie Babies. It's Smith's second Cirrus, and has the Tornado Alley turbocharger mod. "We were overwhelmed by so many pilots willing to drop everything and help in Haiti," recalls Smith. "And the Cirrus was the perfect airplane for the mission. We love it"
Page 1 of 4
Labels:
Aviation Resources
,
Buyer's Guide
,
Features
,
Modifications
,
New Products
,
Pilot Guide
,
Pilot Resources
,
Pilot Supplies
,
Pilot Gear
,
Best Buys
,
What's New