Wednesday, November 30, -0001
Our 10 Favorite Cirrus SR22S
Airplanes that stand out from the crowd and make us take notice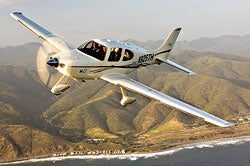 Best Retrospective
Best Retrospective
Cirrus introduced their Centennial Edition SR22 back in 2003 to commemorate the Wright Brothers' first flight. Pilot Brian Vidor (who also owns Santa Monica Airport's popular Typhoon restaurant,
www.typhoon.biz
), purchased the Centennial Edition for both work and pleasure flying. The elegantly distinctive design features a linen-white base paint that's meant to evoke the color of the linen wings on the original Wright Flyer. Cirrus wanted to create this edition with one foot in the past and one foot pointing squarely toward the future. The design is subtle and features some nice touches, like a Wright Flyer graphic on the tail, color-matched, three-bladed prop and spinner combination, and cocoa leather seats with a special, embroidered "centennial" logo. This edition also featured the 310 horse-power Continental Platinum IO-550 engine, and a host of personalized gear, like umbrellas, jackets and matching luggage! Only 100 were made.
Most Interesting Mission
Cameron Beckman is a pro golfer based in Texas. He earned his third PGA Tour title last year at the Mayakoba Golf Classic. Beckman had a share in a CitationJet CJ1 that he used for traveling to tournaments though he was not a pilot. "I would sit up in the front," says Beckman, "and that's what got me wanting to learn to fly." So, two years ago, the Minnesota-born Beckman bought a 2010 Cirrus SR22 Xi in which he could both learn and commute to tournaments. Today, Beckman has 120 hours under his belt as a pilot but hasn't been able to finish his private certificate due to the grueling golf pro Tour schedule. "I travel to tournaments to learn how to fly!" laughs Beckman, who travels with a CFI. He's planning on taking his checkride before the end of this year, and has become a fan of both the SR22 and its Perspective glass panel. "It's incredible," he says. "I went to Corpus Christi to play golf but flew the whole trip myself. This airplane is really amazing."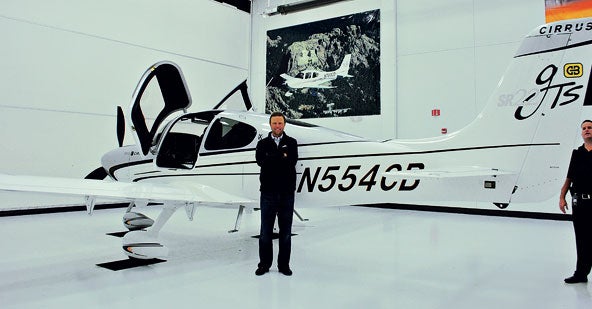 Most Interesting Mission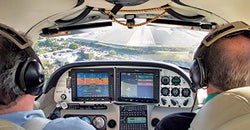 Avidyne R9
Best Use Of The Avidyne R9
Since it was introduced, Avidyne's R9 glass panel has piled up the accolades. But few pilots seem to use the incredible system to its full extent. That is, until you talk to Thomas Close. Close is a guru of the R9, and knows it better that just about anybody else we've talked to. A retired United Airlines Captain and one of 10 members of ANFST (Avidyne National Flight Standards Team), Close owns a 2004 SR22 with the R9 system, and flies some 300 hours per year. "The R9 is a shallow and broad system, as opposed to deep," explains Close. "All its functions lie in tabs within page function keys that are easy to get to and always there." Even spending a few minutes talking about the R9, it becomes apparent his knowledge could fill a book. Close's favorite R9 feature? The "Line Select Key 5" function. "The cognoscenti call it 'the Butler,'" says Close. "It provides useful flight-management features at the push of a button." His second-favorite feature? "The GFC-100 autopilot is extraordinary."
Zero To Private Pilot In 90 Days
It's another testament to Cirrus' simplicity that a zero-time pilot can earn his or her certificate in almost no time. James Duan was a zero-time pilot when he fell in love with the Cirrus. In August of 2010, Duan took the plunge and ordered a brand-new Turbo SR22. He took delivery of the red-and-white, two-tone beauty five weeks later, and began flight training in California with Cirrus Standardized Instructor, Ryan Farr.

Once into flight training Duan had to take a six-week break to travel to China on business. After returning to California, Duan flew his turbo every day until he was comfortable enough to take his checkride. On December 3, 2010, Duan successfully passed his checkride in N369JD. Duan's accomplishment also demonstrates Cirrus' commitment to simplicity and their pursuit of buyers who may never have considered general aviation in another way. Ken Goble, Cirrus Regional Sales Director for Southern California, congratulated Duan for his accomplishment and presented him with a Cirrus plaque. Well done, James!
Page 3 of 4
Labels:
Aviation Resources
,
Buyer's Guide
,
Features
,
Modifications
,
New Products
,
Pilot Guide
,
Pilot Resources
,
Pilot Supplies
,
Pilot Gear
,
Best Buys
,
What's New