Tuesday, September 22, 2009
Power Trip
King Air Upgrades Spur Aftermarket Action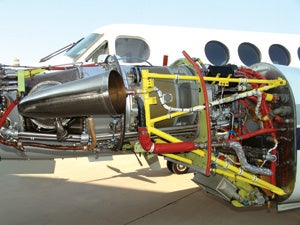 Blackhawk's XP52 engine upgrade for the King Air 200 series requires no airframe modification. The original PT6A-41 and -42 engines are exchanged for factory-new engines.
Blackhawk's flight operations manager, Chris Dunkin, is also aboard the flight, proudly surveying the results of the upgrade as the airspeed indicator climbs clockwise.
"It's pilots doing mods for pilots," Dunkin says, explaining Blackhawk's philosophy. "We look for performance gains that will make the airplanes better for the pilots."
The OAT is minus-19 degrees C (+15 ISA). We crunch the numbers and determine that true airspeed, even on this hot day, is 305 knots.
Expanding Options
Blackhawk upgrades are just one of the aftermarket options transforming the pre-owned King Air world. For example, 200VA was already outfitted with several performance system mods that Raisbeck Engineering (
www.raisbeck.com
) offers in conjunction with the Blackhawk engine upgrade. These mods include dual aft body strakes that improve stability, a ram-air recovery system that boosts power, and crown wing lockers for additional storage space.
At 28,000 feet, 200VA's new engines burn more fuel per hour than the originals, but the speed increase and halved time to climb lead to lower fuel consumption per trip. The new engines also deliver better short-field performance. Using the engines' reverse range after landing to slow the King Air, Winkler can consistently make the intersection turnoff 1,100 feet down runway 25 at KXLL. "I can do that without touching the brakes, just beta," he says.
Most of 200VA's flights are around the Northeast and the Eastern Seaboard. The owners opted to forego RVSM (reduced vertical separation minimum) capability, which is required for flight from 29,000 to 41,000 feet. Owners who go the RVSM route can operate up to the King Air's 35,000-foot service ceiling and see further increases in range and economy.
After my flight in 200VA, I talked to Robert Lowery of Gillette, Wyo., who has a Blackhawk XP61 upgrade with a Raisbeck performance package, an RVSM-compliant Garmin G1000 glass-panel retrofit and BLR winglets.
"I'm very enthusiastic about the overall package," Lowery says. "It completely changes the way we operate the airplane. With the RVSM capability, we're able to fly about 4,000 feet higher on the same fuel burn at anywhere from 20 to 30 knots faster true airspeed."
So far, about 50 King Air 200/B200 aircraft have gone Blackhawk. With the response from pilots like Winkler and the owners who fly behind him, expect to see more.
"The owners have said it's definitely quieter and has less vibration, and that we get places a lot faster," Winkler says. And that's before considering the benefits that can't be quantified. "One owner told me that each time he flies his airplane, he falls in love with it all over again."
Page 3 of 6