Tuesday, September 22, 2009
Power Trip
King Air Upgrades Spur Aftermarket Action
King Air Aftermarket Specialists
Engine upgrades are just one of the aftermarket options available for King Air owners and operators. Here are some of the specialists serving the marketplace, and some of their offerings.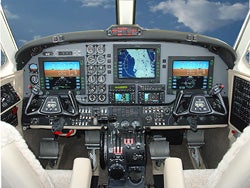 American Aviation
American Aviation
www.americanaviation.us
(352) 796-5173
A certified installer of popular aftermarket upgrades (Blackhawk, Garmin, Raisbeck and others) that also offers a completion center and sales arm, American Aviation at Hernando County Airport (KBKV) in Brooksville, Fla., can provide turnkey King Air solutions. The Alliant King Air Flight Deck, for example, offers dual large-format Avidyne EXP5000 PFD screens and an S-Tec IntelliFlight 2100 digital multi-axis autopilot. Each EXP5000 has an integrated solid-state air data, attitude and heading reference system (ADAHRS) and Avidyne's two-way MultiLink datalink weather service, an EGPWS/TAWS display, lightning and traffic systems, and 19 different weather radar systems.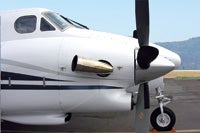 American Aviation Inc.
American Aviation Inc.
www.americanaviationinc.com
(800) 423-0476
Based out of Coeur d'Alene Airport (KCOE) in Hayden Lake, Idaho, American Aviation Inc. delivers performance-enhancing modifications for the King Air 90 and 100 series of airplanes. These modifications include a pitot cowling ram-air recovery system, streamlined oil-cooler cowlings and aerodynamic speed stacks. "All of the systems are designed to increase the climb and cruise performance of the King Air," explains the company's vice president, Jim Christy. The increases depend on the model of King Air and the operation altitude, but can range from 15 to 20 knots. "You can operate the airplane to save fuel, extend range and/or increase the cruising speed," Christy comments. He notes that in 1984, Beechcraft incorporated similar technology in the C90A, "and those airplanes are about 15 knots faster than previous models with the same engine."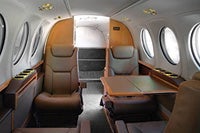 Aviation Design
Aviation Design
www.aviationdesign.com
(800) 725-4297
It doesn't take new engines or a retrofit panel to update a legacy aircraft. Groveland, Calif.–based Aviation Design specializes in custom interiors and Confor foam seating, which utilizes technology developed for the U.S. space program. "With a cabin-class aircraft," CEO Tim Hallock says, referring to the King Air C90 and 200/B200 aircraft the company has refurbished, "the biggest need is for really comfortable long-range seating. We use different-density foams so your muscles completely relax." Offering what it calls "old-world craftsmanship combined with new-world technologies," the company can make a complete set of new seats out of one seat sent from an aircraft, minimizing retrofit downtime. Aircraft with the company's interiors have won a host of awards at major venues including EAA AirVenture, Sun 'n Fun and AOPA's national convention.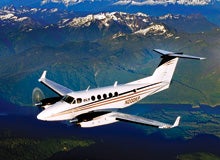 BLR Aerospace
BLR Aerospace
www.blraerospace.com
(800) 257-4847
With aftermarket winglets from BLR Aerospace, the benefits that factory-designed winglets deliver on the King Air 350 are available for King Air 200- and 300-series aircraft. BLR's aluminum and carbon-fiber winglet system adds 3.5 feet to the wing, increasing the wing aspect ratio and diminishing induced drag. The winglets "improve most phases of flight, including short-field takeoff, climb, high-altitude operations, cruise, speed, fuel burn, handling qualities and slow flight," says Dave Marone, BLR's vice president of sales and marketing. To date, BLR has shipped 190 King Air 200 units.
"Operators cover the spectrum from those who are looking for speed, fuel savings and range to those seeking RVSM access and short-field safety," Marone says. Let's not forget that they also look very slick. BLR expects an STC for installations on the King Air 90 series of aircraft in time for NBAA's convention in October.
CenTex Aerospace
www.centex.aero
(254) 752-4290
Based at Waco Regional Airport (KACT) in Waco, Texas, CenTex develops STC mods aimed at markedly boosting gross weights. For King Air C90s, the Halo 90 upgrade increases payload from 250 pounds to more than 700 pounds, depending on the model of C90. On the drawing boards is the Halo 250 STC, which will increase gross weight for King Air 200s to 13,500 pounds from 12,500 pounds, and the Halo 295 STC will up gross weight to 14,000 pounds. The STCs will require no airframe modification. STC certification for both programs is expected in Q4 2009, and the upgrades will be available through Hawker Beechcraft service centers.
Page 4 of 6