Tuesday, September 22, 2009
Power Trip
King Air Upgrades Spur Aftermarket Action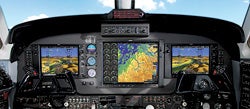 Cutter Aviation
Cutter Aviation
www.cutteraviation.com
(800) 234-5382
Phoenix-based Cutter Aviation has been closely associated with the Beechcraft brand for more than 60 years. Along with its status as a certified dealer/installer for a host of King Air aftermarket options, Cutter also offers acquisition services, with purchase proposals illustrating the economics of buying and upgrading a legacy King Air. The company advocates the Garmin G1000 glass-panel upgrade, and not just because it's RVSM-compliant, opening up altitudes all the way to the King Air's 35,000-foot service ceiling. "You're saving 250 to 350 pounds by getting rid of the inverters and wiring and replacing them with lightweight components," says Cutter's Dave Harsay. "That's huge. Its gives you the opportunity to carry one or two more people and carry the same amount of fuel." Cutter has eight locations around the Southwest.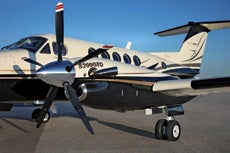 Enhanced Aero
Enhanced Aero

www.enhanced.aero

(254) 848-2668
Enhanced Aero of McGregor, Texas, offers a proprietary PT6A-52 STC engine conversion for the King Air 200/B200 series, along with King Air mods that include McCauley four- and five-blade propellers, BLR winglets, Raisbeck products and interior conversions from its own Interiors by Brazil company. A complete conversion can be accomplished in four weeks. President Grady O'Hara has more than 35 years of experience in business aviation.
Executive Beechcraft
www.executivebeechcraft.com
(816) 842-8484
Since 1938, Executive Beechcraft (EB) has been associated with the Beechcraft brand. "We've been through it all," says the company's vice president and general manager, Ed Chevrestt. The long association with Beech has paid dividends for customers. EB was the first facility certified to retrofit the Garmin G1000 in the King Air C90. The benefits go beyond the company's complete upgrade offerings and capabilities, and make it a preferred choice for owners and operators looking for a quality maintenance and repair partner. EB's turnkey King Air services include crewing and placing King Airs on lease programs to generate revenue. With deep roots in Kansas City and St. Louis, EB now has four locations in the area.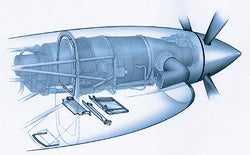 Raisbeck Engineering
Raisbeck Engineering
www.raisbeck.com
(800) 537-7277
Seattle-based performance mod manufacturer Raisbeck Engineering has designed and developed performance systems for King Airs for 25 years. Raisbeck received certification of its Epic Platinum and Epic Gold Performance Systems in 1990. The Platinum system includes Quiet Turbofan Propellers, while the Gold package is designed for aircraft already outfitted with the four-bladed props. Both systems incorporate dual aft body strakes to improve stability and reduce drag and yaw, a ram-air recovery system that boosts climb and cruise performance, and enhanced-performance leading edges that increase cruise speeds and reduce wing structural fatigue. "We currently have more than 6,000 performance systems installed on the King Air fleet, says Anne Lockemy, Raisbeck's Advertising & PR Manager, "and our [wing] lockers and strakes have been standard on the Hawker Beechcraft 350 production line for nearly seven years."
Page 5 of 6