Monday, September 1, 2008
Project 182, Part III
Exterior Makeover!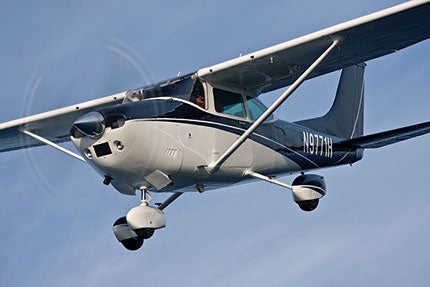 Renovation on N9771H is complete! In "
Project 182, Part I
" [April 2008], we covered the modernization of the aircraft's avionics panel. We took care of the interior in "
Project 182, Part II: Redressing A Skylane
" [June 2008], and in this final edition, we address the exterior.
If you're into sports cars and buy a classic Austin Healey, Jaguar, Alfa Romeo or Porsche, your first concern may be the paint job. Appearance is often all-important in a sporty automobile, designed from the outset for aesthetic appeal and fun on the highway. For aircraft owners, the priorities are often a little different. The very nature of painting an airplane demands a modified set of priorities, primarily because mechanical reliability is more important than aesthetics.
Still, there comes a time when all of us look to the possibility of refinishing the family Mach-buster. It can be a major project, not only because airplanes have quite a bit more surface area than most automobiles, but also because they must be completely stripped of old paint to avoid accumulating excess weight. To sand and paint is certainly possible with an airplane, but aside from the weight gain of applying new paint on top of old, no one has yet figured out a way to sand without weakening rivet heads.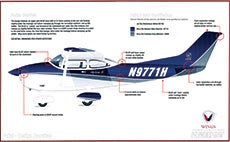 Wings Aviation Design Group's paint and color scheme blueprints for P&P's Cessna 182
Unlike automobiles, aircraft typically must be painted on top, both sides and bottom. Additionally, airplanes often demand much more exotic paint schemes, sometimes employing two to four colors, stripes, emblems and all other manner of decorations. Accordingly, aircraft paint jobs are usually intricate and time-consuming. You may be able to run your car to a paint shop on Tuesday and pick it up on Wednesday afternoon, after a quickie $395 repaint, but that's just not possible with an airplane. From start to finish, a typical aircraft paint job can require from three to six weeks and cost upwards of $10,000.
There are three basic considerations with an aircraft paint job: 1) the scheme and colors; 2) repair or replacement of fiberglass parts; and 3) the actual preparation and painting process.
In considering the paint scheme and colors for
P&P
's Cessna 182, we contacted Brian Smith of Wings Aviation Design Group in Dallas, Texas. We had worked with Smith five years ago on
P&P
's Project Bonanza. Smith's company offers consulting on all aspects of exterior paint design, from selection of scheme and colors to the actual design layout.
Page 1 of 4