Sunday, June 1, 2008
Redressing A Skylane: Project 182, Part II
Flying by the seat of your pants is more comfortable and fun when you're nestled into a supercomfortable seat surrounded by first-class furnishings
"Compared to L.A., Pine Mountain is a fairly idyllic existence," says Hallock, "a great place to live and work. At Aviation Design, we like to feel that we concentrate on quality, and to that end, we don't worry much about quantity. In order to turn out a high-quality interior, we do only about 12 to 15 full interior rebuilds a year.
"Since moving here," Hallock continues, "we've significantly modified our business. In addition to completely overhauling customer airplane interiors, we're now in the parts business for two of the most prestigious aircraft models in the industry. Aviation Design is now a PMA interior parts supplier for Hawker Beechcraft. Yearly, we produce roughly 130 ship sets of side panels, seats and headliners for the new G36 Bonanzas and G58 Barons, and we'll soon be doing window moldings, as well." Hallock is currently negotiating with Cessna to provide interior parts for the company's piston products.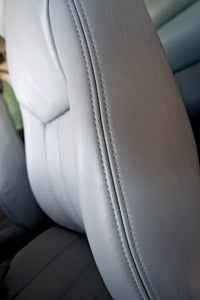 Hallock's eye for perfection appears in the details of his upholstery work, using high-quality materials from Perrone Leather.
Hallock and company work in both fabric and leather, but he acknowledges leather is, by far, the most popular option, if also the most expensive. "Some owners discard fabric out of hand, and that can be a mistake, as there are some excellent materials available. Fabric is lighter (often by 20 to 30 pounds), generally less expensive and can be very attractive," he explains.
"Still, there's a reason you never see Porsches, Ferraris or Lamborghinis outfitted in fabric," says Hallock. "Leather may be slightly more limited in colors and styles, but it's probably the most durable material for an airplane [interior]," says Hallock, "and even the less-expensive grades are almost universally regarded as richer-looking."
Whatever the material, Hallock says aircraft upholstery design is divergent from standard auto interior appointments. "In a car, the upholstery may be installed and remain in place for the life of the vehicle," Hallock comments, "but aircraft interiors often must be removed and reinstalled regularly, in some cases once a year, and that means there'll be mechanics and other technicians working inside the airplane. For that reason, I try to build an interior with an eye toward ease of removal and replacement. I'm also required by FAA regs to comply with fire-resistance standards on all materials that go into the airplane."
Hallock's quality workmanship wouldn't go far without quality materials, and accordingly, we chose some of the best. Perrone Leather (
www.perroneleather.com
) of Gloversville, N.Y., provided the various leathers for the Skylane's interior rebuild. We swathed seats, panel cover, side panels, headliner and most anything else we could find with some of Perrone's finest and most durable cowhides.
Page 2 of 4