Tuesday, August 23, 2011
Something Xtra Special
Upgrading Legacy Bonanzas the factory way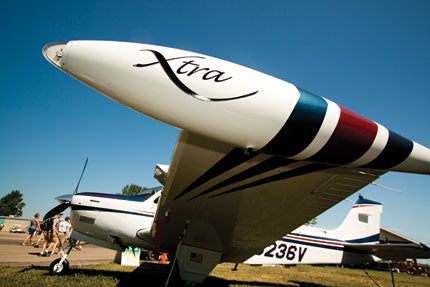 Upgrade options offered in Hawker Beechcraft's Xtra program include an upgraded engine and propeller, D'Shannon tip tanks, a Garmin G500 glass panel and refurbished interior.
For years, GA manufacturers have left the upgrade aftermarket to STC (supplemental type certificate) holders and mod shops—the entities that developed or acquired an approved process of altering a certificated aircraft, and aircraft repair stations that specialize in installing STC upgrades, respectively. If you want a glass panel, extended-range tanks, a new interior or a blueprinted engine for your otherwise perfectly fine airplane, you select the mods, choose the shop, drop off the old ride and pick up a newer one.
The system has worked out pretty well for aircraft owners, providing us with a range of upgrade options and installation facilities, complemented by an effective multimodal grapevine that has helped aircraft owners make informed aftermarket choices. But OEMs (original equipment manufacturers) are realizing they can't afford to ignore the aftermarket in today's—and probably tomorrow's—sales environment. And no OEM has done a more abrupt or emphatic about-face on its aftermarket stance than Wichita-based Hawker Beechcraft Corp.
Last fall, the company unveiled its Hawker 400XPR program to outfit legacy Hawker 400XP and Beechjet 400A jets with new more fuel-efficient engines and Rockwell Collins Pro Line 21 avionics suites. Earlier in 2010, Hawker Beechcraft unveiled a similar upgrade program for the Hawker 800XP. Then in December, the company announced its King Air 200GTR upgrade for King Air 200GT owners, adding winglets and a Raisbeck Engineering Ram Air Recovery system that significantly increase the aircraft's performance. But the refurbishment program that will likely have the biggest impact on rank-and-file pilots was unveiled last September at the annual American Bonanza Society (ABS) convention: a comprehensive package of factory upgrade options for all model -33, -35 and -36 Bonanzas under the banner of the Bonanza Xtra. The options include an upgraded Continental engine and Hartzell propeller, a Garmin G500 glass panel, D'Shannon tip tanks, interior refurbishment and environmentalsystems upgrades.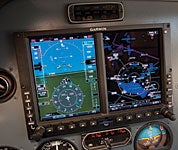 "If you're looking for more fuel and range, more capabilities in avionics, more cabin comfort or all of the above, now you have the option to get any or all of it from factory service centers," said Mike Turner, Hawker Beechcraft Manager, Product Marketing, on the Orion FBO ramp at Wittman Regional Airport (KOSH) during AirVenture. Hawker Beechcraft brought its Bonanza Xtra demo aircraft to AirVenture to introduce the refurbishment program to the Oshkosh crowds, and invited Plane & Pilot aboard for an Xtra special demo flight.
Xtra Options
N3236V, a 1985 A36 Bonanza, is tricked out with most of the available Xtra options, making it akin to a new G36 in performance, comfort and safety, as Hawker Beechcraft Senior Sales Demonstration Pilot Dan Johnson showcased during the flight—.0IFR in CAVU conditions to the Dells VOR (DLL) and back.
Under the cowl, the Xtra's Continental Motors Gold Standard IO-550-B—the same engine in today's factory new G36 Bonanzas —replaces a legacy Bonanza's stock engine. The new engine's tighter tolerances and balanced components deliver more efficiency while reducing noise and vibration.
Page 1 of 3