Tuesday, August 23, 2011
Something Xtra Special
Upgrading Legacy Bonanzas the factory way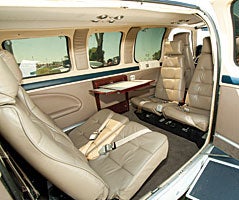 The refurbished interior on the Bonanza Xtra features new side panels with inset armrests, optional wood trim and French stitching, and upgraded seats.
A Hartzell Scimitar three-bladed propeller improves both climb and cruise performance, providing as much as 12% more thrust than a two-bladed MacCauley and 2% more than Hartzell's own standard three-bladed prop certified for the engine. The prop also lowers noise, thanks to the design of its tip sweep, which reduces transonic drag. The combination made for a smooth, comfortable climbout as we monitored the flight on the Xtra's glass panel.
The Xtra's avionics upgrade is built around the Garmin G500 with 6.5-inch PFD and MFD, driven by a Garmin GNS 430 GPS NAV/COM. The G500 includes a terrain elevation database, moving-map display and optional synthetic vision technology. (FliteCharts and SafeTaxi also are options.) Owners can choose additional compatible panel upgrades as desired. The demo plane, for example, has retained its Bendix/King KFC 150 autopilot. The KFC 150 can accept heading commands and other basic directives from the G500, but can't handle altitude preselects and other functions the G500 is capable of performing when coupled with a compatible digital autopilot. Garmin's new touch-screen GTN units are also an option.
In the cabin, the Aviation Design Interior had turned the vintage Bonanza into a factory- new look-alike. New side panels with inset armrests increase cabin width by as much as four inches, with optional wood trim and French stitching imparting a more refined look. Upgraded seats incorporate comfortable, energy-absorbing material developed for the U.S. Space Program that doesn't impede circulation, the primary cause of seating pain and fatigue.
With a flight of some 120 nm, we weren't going to need the D'Shannon extended range tip tanks that are another key option, but these make a particularly compelling upgrade. The tanks add 40 gallons of fuel capacity—20 gallons per side—adding a third more fuel capacity and extending range from about 800 nm to about 1,200 nm. The installation bestows an automatic gross weight increase—from 3,650 to 3,833 pounds—that adds a net of 150 pounds to the useful load. That weight doesn't have to go in the fuel tanks, either—keep the tip tanks empty, and you can carry the extra payload in the cabin. Installation of the composite tanks includes fuel pumps, triple filtration, flush-mounted filler caps, quick drains, fuel-quantity gauges, wingtip navigation lights and strobes. (LED nav and strobe lights are optional.)
Available environmental system upgrades can help keep everyone onboard more comfortable during those longer flights. These upgrades include G&D thermal pane window inserts that reduce cabin noise and thermal resistance, and a Rosen Monorail Sunvisor System. Coming soon: an environmental control system that maintains a set cabin temperature and can remain on during takeoff, weighs 20 pounds less than the current system and eliminates its belly scoop, adding an estimated four knots to cruise speed.
A unique Bonanza Extra paint scheme, a retro motif inspired by the tip tanks, is also available, though the demo aircraft (which belongs to the Beech Employees Flying Club) doesnt sport this livery.
We had barely sampled the benefits of the Xtra upgrades by the time we were Oshkosh inbound, cleared for the VOR 27 approach.
Page 2 of 3