Thursday, December 1, 2005
What Makes Airplane Tires So Special?
We went to Michelin for a short course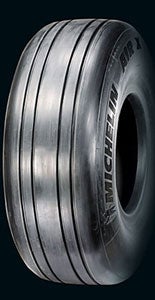 Airplane tires are a breed unto themselves. A tire on your car has it easy compared to one on an aircraft. Your car doesn't drive along a sun-baked, 120-degree F taxiway, then climb into sub-zero temps several miles above the Earth, hanging in a 100-mph wind, then come down and smash onto the ground at 80 miles an hour, maybe even bouncing a few times. Not just any tire is up to the mission.

That's why aircraft tires must be certified by the FAA, as well as TSO'd, which sets standards for aircraft tires, including how they're to be tested and the limits of their endurance. With a legion of federally established performance parameters added to the unique requirements put forth by a dazzling variety of aircraft, it's not hard to see that creating an aircraft tire is a high-tech proposition.
"We're very much a technical company," points out Michelin's Harvey Stackhouse. "We have succeeded in business because of our technical strength."

He goes on to describe how his company goes about the business of creating aircraft tires. "An airframe manufacturer comes to us and says, 'Here's the plane we're going to make. Here are the size constraints. Here are the weight constraints, and here is the performance we expect. Can you make us a tire?'"

Michelin engineers start with a blank sheet of paper, then they go from there. And sometimes the solutions they arrive at come from outside the aeronautical business. "British Aerospace and AirFrance came to us," remembers Stackhouse, "and asked, 'Is there anything you can do to get the Concorde flying again?'"
Page 1 of 3