Tuesday, July 20, 2010
Airpark Living: Waking Up To Your Dream
Taxiing up to the front door of your home is the stuff of dreams for most aviators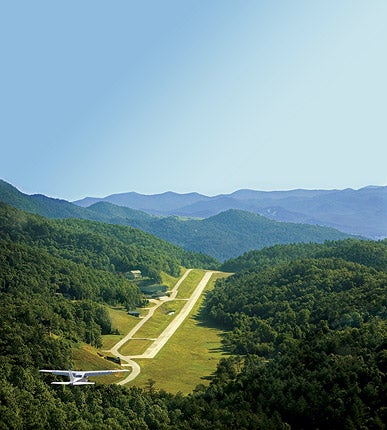 Heaven's Landing
If you're serious about flying, at some point your dreams have wandered to airparks. The thought of living next to your airplane is pretty much as good as it gets if you're an aviation lover. How many of us haven't secretly drooled at John Travolta's huge spread at Jumbolair in Florida, or pictured ourselves waking up next to a happy Cub or Husky or Gulfstream somewhere in the quiet mountains or at a luxury resort?
Even with the pilot population shrinking, airparks are becoming more and more popular. In just the past five years, scores of new airparks have sprung up all over the country. Sources like "Living With Your Plane," a group dedicated to all things airpark-related, report more than 625 active airparks across the country.
For those who may not be quite ready to taxi up to their living room, resort airparks offer relaxing getaways—with enticing amenities, gorgeous surroundings and luxury accommodations—for a few days or a few weeks. Most resort airparks also sell lots, in case you want to turn your vacation into a permanent residence.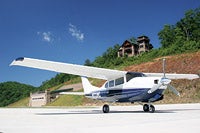 Heaven's Landing
If you're interested in airpark living, we suggest you do a little research to find out what's most important to you and your flying mission. Do you need an instrument approach or extensive lighting? Do you prefer the soft swish of grass welcoming your taildragger home, or do you require a mile-long asphalt runway? Do you like mountains, deserts or beaches? Finally, you may want to visit a few resort airparks and get a feel for what living with your airplane is really like. Talk to residents; find out what makes each airpark unique. Here are some great airparks to whet your appetite.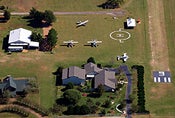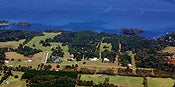 Aero Estates
Aero Estates, Frankston, Texas (T25)
Up until about 2002, Aero Estates was still pastureland along the crystal waters of Lake Palestine, 25 miles southwest of Tyler in East Texas. Airport Manager and resident Michael Raichle developed the land together with commercial pilot Robert Huber. Today, Aero Estates offers 150 new homesites with private lake and seaplane access. One of the key features for pilots here is the 3,200x60-foot Bermuda-grass runway; perfect for tailwheels of every feather. The airpark also has a heliport and a VASI.
Half-acre lots start at $22,000, and all have runway and taxiway access, with electricity and water already run to each lot. "This is a bit of paradise," says Raichle, "and what makes us unique is access to the lake for flying or water sports." Visit
www.aeroestatesairpark.com
.
Airpark Costa Rica, Playa Samara, Costa Rica
"Live in paradise" is a slogan used by many airparks, with varying degrees of accuracy. In the case of Airpark Costa Rica, the phrase rings absolutely true. It's the only airpark in Central America, and it's in one of the most picturesque countries in the world. Playa Samara is right out of a travel brochure, with warm tropical water, giant palms, beach sand that's as fine as sugar and terrific people.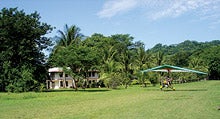 Airpark Costa Rica
The airpark is more than 90 acres and consists of 40 homesites just over an acre each, starting at around $200,000. The airpark is still being finished, but will feature a 3,000-foot manicured grass strip. Playa Samara is about three miles away, and world-class golf awaits within a 10-minute drive. Airpark Costa Rica brings together many features to make it a true aviator's paradise. Visit
www.airpark-costarica.com
.
Page 1 of 5
Labels:
Aviation Resources
,
Buyer's Guide
,
Buying A Plane
,
Cross-Country Travel
,
Decision Making
,
Features
,
Journeys
,
Learning Center
,
People and Places
,
Ownership
,
Best Buys
,
Travel