Tuesday, July 20, 2010
Airpark Living: Waking Up To Your Dream
Taxiing up to the front door of your home is the stuff of dreams for most aviators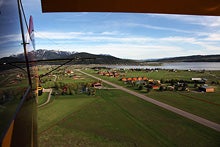 Alpine Airpark
Alpine Airpark, Alpine, Wyo. (46U)
Anybody who has ever been to Jackson Hole, Wyo., knows the beauty of that area. Alpine Airpark is located just 35 miles from Jackson Hole and shares the rugged panoramas of the Bridger-Teton and Caribou-Targhee National Forests that border it. Fifty luxurious homesites and a newly paved 5,800-foot runway highlight the list of unique features at Alpine, which sits on a flat meadow on the shoulders of the Salt River and Palisades Reservoir.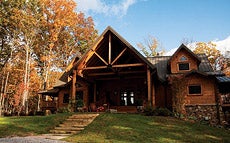 Big South Fork Airpark
Lots range from $250,000 to $750,000, and based aircraft include many private jets and bush planes. "We have a lot of Husky aircraft here," says owner and resident Bill Wiemann, "and the outdoor activities are amazing." From kayaking to white-water rafting and world-class fishing, Alpine is a luxury mountain resort and community. Visit
www.alpineairpark.com
.
Big South Fork Airpark, Oneida, Tenn. (KSCX)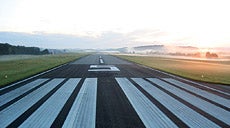 Big South Fork Airpark
There are two main reasons why Big South Fork Airpark exists: airplanes and horses. One feature that sets this airpark apart from others is the equal amount of community interest in equestrian pursuits. "My experience is that one spouse plays with the airplanes while the other rides the horses," laughs developer Bill Armstrong.
The development is only four years old, and Phase I is just being completed, with roads and utilities already finished. Big South Fork boasts a paved and lighted 5,500-foot runway with four instrument approaches. Six homes have been built thus far, and lots-hangar sites are available, ranging from $89,000 to $250,000. The 450-acre airpark bordering on the Big South Fork National River & Recreation Area has dedicated more than 50 acres to equestrian facilities. Visit
www.bigsouthforkairpark.com
.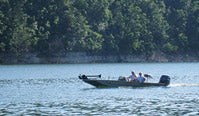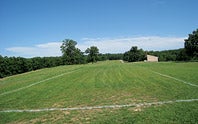 Brass Lantern Resort
Brass Lantern Resort, Cedarcreek, Mo. (MU24)
Brass Lantern is unique in that it'll serve two groups: the lovers of vintage aviation who'll flock to the airpark's 2,000-foot grass runway, and the jet crowd who'll appreciate their GPS approach and 5,000-foot newly paved runway. Brass Lantern Airpark is new but is already over 50% sold out, according to Marc Shubb, marketing director for the resort. "We even have a third 'water runway' on Bull Shoals Lake," adds Shubb. "It's tough to find a mile-long asphalt runway next to a water runway!"
The airpark is located some 30 miles southeast of Branson, Mo., and even though no homes have yet been built at Brass Lantern, the lodge was just remodeled. "It took the owner of this land 20 years to build this lodge by hand," says Shubb, "and 80% of it was built with materials from the land around it." Lots are still available and range from just under $60,000 to about $400,000. Visit
www.brasslanternresort.com
.
Callaway Gardens, Pine Mountain, Ga. (KPIM)
Rather than being just a fly-in community, Callaway Gardens is a 13,000-acre resort that boasts a long and storied horticulture pedigree. It has devoted an enormous woodland garden and butterfly sanctuary to 2,500 of its acres. It's home to many of the Southeast's horticultural experts, and was the location of the famous
Victory Garden
programs on public television. Started in 1952, Callaway Gardens is environmentally focused and even has a demonstration vegetable garden.
Callaway Gardens
Located one hour south of Atlanta in Pine Mountain, Ga., the resort is now offering homesites that start in the low $100,000s, as well as finished homes and cottages priced from $290,000 to $500,000. Callaway is next to nontowered Harris County Airport, which has a 5,000x100-foot runway and instrument approaches. Visit
www.callawaygardensliving.com
.
Page 2 of 5
Labels:
Aviation Resources
,
Buyer's Guide
,
Buying A Plane
,
Cross-Country Travel
,
Decision Making
,
Features
,
Journeys
,
Learning Center
,
People and Places
,
Ownership
,
Best Buys
,
Travel