Tuesday, July 20, 2010
Airpark Living: Waking Up To Your Dream
Taxiing up to the front door of your home is the stuff of dreams for most aviators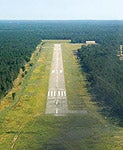 Garland Lodge & Resort
Garland Lodge & Resort, Lewiston, Mich. (8M8)
Garland Lodge features a rustic feel and is tucked away in picturesque northern Michigan. Garland is more of a destination resort, with plenty of golfing, swimming, nature hiking and relaxation amenities to satisfy just about everybody. With summer room rates starting at only $89, Garland is tough to beat, especially with its luxury-resort vibe.
The resort features a 5,000-foot paved and lighted runway at the adjoining Garland Airport. Note that single-engine aircraft pay a $10 landing fee, twins pay $20, and jets pay $50. There's an additional parking fee for overnight aircraft. Garland is located about three hours from Detroit. Visit
www.garlandusa.com
.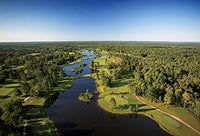 Garland Lodge & Resort
Heaven's Landing, Clayton, Ga. (GE99)
From the air, Heaven's Landing appears as a curious sight. The land around it is covered with lush, green trees and stretches like a thick carpet as far as the eye can see. A tiny open area appears, with the stark, white contrast of a 5,000-foot concrete runway and ramp area. Heaven's Landing is located in the Blue Ridge Mountains of Georgia, about 100 miles north of Atlanta.
The 635 gently rolling acres that comprise this residential airpark house 300 lots encircling the landing strip. Heaven's Landing is surrounded by national forest, and most homesites have taxiway access. Those that don't are part of an innovative hangar complex next to the field, with remote-control bifold doors and mountain views. With an 85-degree F summer average and a 51-degree F winter temperature, Heaven's Landing is even more heavenly. Visit
www.heavenslanding.com
.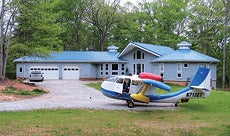 Long Island Airpark
Long Island Airpark, Lake Norman, N.C. (NC26)
If your dream is to fly a seaplane and taxi it up to your home, there just aren't too many options. Long Island Airpark in North Carolina isn't just an option, it's a beautiful haven for seaplane or airplane pilots. Located on Lake Norman, this airpark also has a 3,000x100-foot grass strip. Development started in 1999, and there are currently some 52 lots for sale, ranging from one to four acres. A one-acre runway-access lot runs about $152,000, while a two-acre, water's-edge homesite might run $185,000.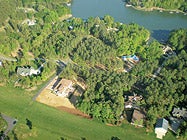 Long Island Airpark
"ET" Tello (he says his first name is too difficult for people to remember) is an active airline pilot who has lived at Long Island Airpark for six months. He says, "It's great here. We're only 45 minutes from Charlotte, but it's remote and quiet." The picturesque lots are in wooded areas that retain the charm that the South is known for. "We just love living here," says Tello. Visit
www.flyinhomes.com/103nc/103nc.html
.
Mazatzal Mountain Airpark, Payson, Ariz. (KPAN)
The town of Payson, Ariz., is located in the largest stand of ponderosa pines in the world. Mazatzal Airpark (named after the nearby Mazatzal Mountains) is a small fly-in community located within the town of Payson, about 50 miles from Sedona. The airpark is located adjacent to Payson Airport and has full access to its 5,500x75-foot paved runway and fuel, including Jet A.
Mazatzal recently opened a new phase with 40 half-acre lots available. Lots with utilities start at $140,000, and finished homes with hangars are selling for about $599,000. Visit
www.flyinhomes.com/238az/238az.htm
.
Page 3 of 5
Labels:
Aviation Resources
,
Buyer's Guide
,
Buying A Plane
,
Cross-Country Travel
,
Decision Making
,
Features
,
Journeys
,
Learning Center
,
People and Places
,
Ownership
,
Best Buys
,
Travel