Tuesday, July 20, 2010
Airpark Living: Waking Up To Your Dream
Taxiing up to the front door of your home is the stuff of dreams for most aviators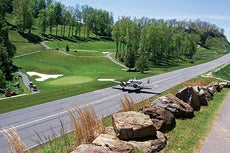 Mountain Air Country Club
Mountain Air Country Club, Burnsville, N.C. (2NC0)
Mountain Air was developed by two prominent North Carolina families: the Banks and Young families. The community has been around since the early 1990s as a mountaintop retreat that caters to folks looking for relaxation. The community's private airport is located at an altitude of 4,400 feet and features a paved 2,875-foot runway that the resort says "promises an unforgettable arrival."
Mountain Air has the unique distinction that you depart from its runway and fly to any destination east of the Rockies and not climb a single foot. The resort is perched high atop Slickrock Mountain and offers golf, tennis, miles of nature trails and all kinds of restaurants. Mountain Air Country Club even has an organic community garden. The airpark community is located about 35 minutes from Asheville. Visit
www.mountainaircc.com
.
Paradise Ranch Resort
Paradise Ranch Resort, Grants Pass, Ore. (3S8)
Oregon seems to be a growing airpark state with airparks popping up in various locations. Paradise Ranch is rich with history, and many of Hollywood's golden-era movie stars visited often, including Clark Gable, Carole Lombard, Orson Wells and others. The area's lush fruit orchards and vineyards contribute to the resort's classy feel.
Paradise Ranch is located at the Grants Pass Airport and, for you golfers, is the only Nicklaus Championship Course in the country with fly-in access. A full concierge service is available to pilots, and the resort is in the process of building a 12,000-square-foot heated hangar. The airport has a 4,000x75-foot lighted, paved runway with a GPS-A approach. Visit
www.paradiseranchresort.com
.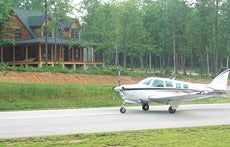 Piney Creek Airpark
Piney Creek Airpark, Altamont, Tenn. (88TN)
Joe and Jeff Greenwell have developed a 303-acre airpark paradise on the largest remaining forested plateau in the continental U.S. Located in rural Tennessee between Nashville and Chattanooga, this privately held aviation community features large homesites at low prices and enough activities to satisfy any outdoor enthusiast. Piney Creek Airpark is at an elevation of 2,000 feet in the midst of the heavily wooded Cumberland Plateau. "This airpark is literally carved out of a hardwood forest," explains Joe Greenwell.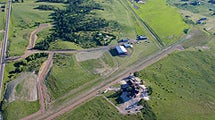 Rocky Mountain Airpark
What the Greenwells have done is create a beautiful haven for people who love airplanes. Much of what they've designed here is unique. Piney Creek's centerpiece is a brand-new, professionally engineered 3,000x50-foot paved runway. The four-year-old development is finishing Phase 1 and will eventually feature about 50 lots ranging in size from 2.5 to 3.5 acres, all attractively priced from $80,000 to $150,000. Greenwell emphasizes this is a family-oriented airpark, with four-wheeler and horse trails, gorgeous waterfalls and state parks. Visit
www.pineycreekairpark.com
.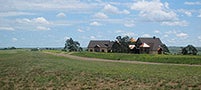 Rocky Mountain Airpark
Rocky Mountain Airpark, Parker, Colo. (ICO8)
The rugged beauty, mild climate and mind-blowing panoramas have drawn people to the Rockies for centuries. Rocky Mountain Airpark continues that tradition with developer and pilot Pete Vinton's vision of aviation nirvana at Everitt Airfield.
Ten-acre homesites are situated to access two manicured and irrigated grass runways, at 3,000 and 2,500 feet long. Twenty luxury lots with runway access range from $175,000 to $325,000. Visit
www.rockymountainairpark.net
.
Page 4 of 5
Labels:
Aviation Resources
,
Buyer's Guide
,
Buying A Plane
,
Cross-Country Travel
,
Decision Making
,
Features
,
Journeys
,
Learning Center
,
People and Places
,
Ownership
,
Best Buys
,
Travel