Tuesday, July 20, 2010
Airpark Living: Waking Up To Your Dream
Taxiing up to the front door of your home is the stuff of dreams for most aviators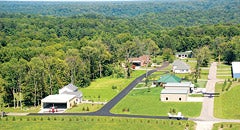 Sandy's Airpark
Sandy's Airpark, Clermont County, OH (I69)
Sandy's Airpark in Batavia, Ohio, is the headquarters for Sporty's Pilot Shop, and it's also the new home of former AOPA Chairman Phil Boyer. The airpark is 25 minutes from downtown Cincinnati and is accessible from the 3,700-foot paved runway at Clermont County Airport. The gated community features wooded, picturesque homesites with underground utilities starting around $250,000. Finished homes with attached hangars start at $599,000. Visit
www.sandysairpark.com
.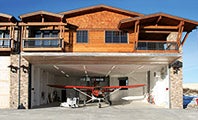 SilverWing At Sandpoint
SilverWing At Sandpoint, Sandpoint, Idaho (SZT)
SilverWing is an exclusive residential airpark/resort with a luxury feel and 18 acres of development. Forty-four lots were designed for homes that feature a spacious hangar on the ground level and residential living space on the upper level. Lots start at $250,000.
The airpark features a paved 5,500-foot runway with an IFR approach. Owner John McKeown tells us that the airpark is comfortably private but not remote. "We're more in the middle of town," he says, "not in the middle of nowhere. If you come and visit, you'll have a car and be at a restaurant or shopping within minutes." McKeown says summer is a great time to come. "Come out to the Sandpoint Fly-In," he adds. "It's the second weekend in August." Visit
www.silverwingatsandpoint.com
.
Spruce Creek
Spruce Creek, Daytona Beach, Fla. (7FL6)
With 1,200 homes and a history that goes back to WWII, Spruce Creek is a model for the airpark world. The airpark was developed during the 1960s from an abandoned Armed Forces training field and encompasses more than 1,200 acres. Spruce Creek is home to more than 650 based aircraft, a hard-surfaced 4,000-foot runway with instrument approaches and its own EAA chapter (#288). Visit
www.fly-in.com
.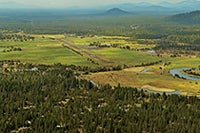 Sunriver Resort
Sunriver Resort, Sunriver, Ore. (S21)
Sunriver is a true luxury resort that also offers permanent hangar homes. The resort is set in a breathtaking part of Oregon near the Cascade range, in an idyllic, serene valley about 15 miles south of Bend. The resort was developed some 40 years ago as a destination fly-in resort, and is known for its rustic lodge and uncompromising views of nature. This past April, a new 5,500-foot asphalt runway was built to accommodate the growing number of private jets. Sunriver boasts two IFR approaches and full lighting.
Sunriver frequently runs a "$99 room special" for pilots so that they can get acquainted with all that Sunriver has to offer. Visit
www.sunriver-resort.com
.
Page 5 of 5
Labels:
Aviation Resources
,
Buyer's Guide
,
Buying A Plane
,
Cross-Country Travel
,
Decision Making
,
Features
,
Journeys
,
Learning Center
,
People and Places
,
Ownership
,
Best Buys
,
Travel