Tuesday, September 18, 2012
Aviation Taxes 2012
A guide to the new IRS regulations
This year has produced quite a few tax law changes that will impact general aviation and the business use of aircraft. There are extremely favorable depreciation deductions with bonus depreciation rules, and for selected new aircraft purchases, this could possibly carry over to 2013 to allow time to complete the purchase. The 2012 Section 179 depreciation rules are very favorable, but they're likely to lose a lot of their benefits in 2013. There are two issues that will affect your tax situation, along with an old and frequently asked question by those who are new to aviation. You'd also be surprised how often this same question—the tax deductibility of flying lessons—is posed by long-time pilots who want to add to their ratings.
Capitalization Versus Repair
The IRS issued a new set of "temporary" regulations as of January 1, 2012. For the record—while these are "temporary" regulations, they carry the full weight of the law and must be complied with until they're withdrawn or made permanent. They count! While the intent of the new regulations was to simplify and coordinate the application of the tax law with the court decisions that have been handed down over the last 10 or so years, as we're becoming more familiar with the 160 pages of regulations, we're finding more new questions than answers to old questions. In order to comply with the regulations, you may even have to apply to the IRS for permission to change your method of accounting. So much for simplification.
If you're in the market for purchasing an aircraft (especially a used one that you're planning to make modifications and improvements to), a firsthand knowledge of the new regulations may save you from an unplanned tax result. This could be the case where a buyer and seller are negotiating the sale and the point of the annual inspection or TBO comes up. Being aware of the new regulations could make a difference in the negotiations, and both the buyer and the seller just might improve their tax position.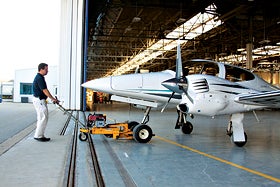 While we all think about airplanes when we think about aviation depreciation, there are a lot of other things involved in aviation besides the aircraft. Do you own a hangar? Regardless of whether you own or rent your hangar, do you have any tools in there such as air compressors, hoists, workbenches, dedicated wiring or partitioned-off office areas? All of these items are depreciable and they may not have the same depreciable life as your plane. The new regulations amplify the point of selecting the proper depreciable life and method the very first year. If you make a mistake and call a seven-year asset a five-year asset, the IRS will tell you to slow down the depreciation deduction and use seven years. But if you take a five-year asset and mistakenly classify it as a seven-year asset, then the IRS can say that you don't get the last two years' depreciation. To correct this, filing an amended return or Form 3115 to request a change in your accounting method may not work. You may have to file a request with the IRS in the form of a private letter ruling to make everything right. Sometimes, there's truly a question mark on what is the proper life. My advice is to select the shorter life rather than the longer life. You can always slow down, but it's hard to speed up the depreciation deductions.

While we all think about airplanes when we think
about aviation depreciation, there are a lot of other
things involved in aviation besides the aircraft. Do
you own a hangar?

There's a blessing to aircraft owners in the new regulations. My old advice was that when an annual inspection or TBO was coming up, I'd recommend that you bring the plane in early just to get the ordinary and routine items cleaned up as normal repairs and maintenance. Then when the plane was in for its annual or TBO, there should be little to no doubt as to what the annual consisted of, and then you'd have to make a decision about expensing or capitalizing the cost of the annual or TBO depending on what became involved. But you'd take care of the routine things ahead of the annual and they wouldn't be a factor in the annual. The maintenance expense would have been protected, and maybe there wasn't enough other stuff done at the annual that would require the cost of the annual to be capitalized. Now I have the luxury of changing my advice. The regulations make it clear that as long as normal repair work can be identified and segregated at the time major capitalized work is being done that the repair items, assuming they're identified and separately stated, will be treated as repair and maintenance. Make sure your A&E mechanic helps you out with this.
The repair regulations are found under 1.263(a)-1T. Be careful not to confuse them with 1.263A. They aren't the same.
Page 1 of 3