Tuesday, September 18, 2012
Aviation Taxes 2012
A guide to the new IRS regulations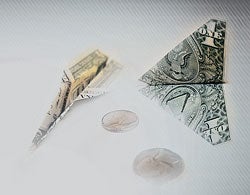 Tax deductions for flight lessons will depend on circumstances and whether or not the expense is customary relating to the particular business environment.
Final Regulations For Aircraft Entertainment Use
The issuance of the final regulations for Code Section 274 still classifies your airplane as an entertainment facility and as such is subject to the rules of IRC Section 274. Since the Sutherland case back around the year 2000, the IRS has been trying their best to either disallow tax deductibility of certain nonbusiness or personal use of business aircraft, or have it be a source of taxable income to the individual who took the personal flight. The IRS tried to prevail in court—but lost. Then the IRS went back to Congress and had Congress rewrite Section 274. Now the IRS has handed down how they're going to interpret and apply Code Section 274. The taxpayers have been given a small window of time to comply with the final regulations, which take effect for tax years beginning after July 31, 2012. For calendar year taxpayers, this means that starting January 1, 2013, you will have to play by the new rules.
To be clear, the IRS is going after businesses who claim a tax deduction for their aircraft being used for personal nonbusiness purposes by "specified individuals." These "specified individuals" are defined as those who own directly or indirectly more than 10% of a business, who's a director or officer of a business, or someone who doesn't have an officer or director title but has comparable responsibilities and duties to that of a company officer or director. Basically, no more name games or title games. The final regulations also deal with two other user classes of aircraft users. These are employees who aren't "specified individuals" and a final class of individuals who aren't employees and aren't specified individuals. That covers every possible person. Nobody is given a free pass from the regulations. They'll just be handled differently.
The final regulations basically followed the 2007 proposed regulations. Even though the answers weren't the ones we wanted, the final regulations did resolve many of the questions and points that were being tossed around regarding what expenses were to be included as operating expenses and the alternatives to charging those expenses to a passenger. Basically, all of the aircraft expenses (fixed and variable) are being thrown in and counted. It's imperative that the regulations be followed. Otherwise, you run the risk of not being able to deduct your aviation expenses, which includes depreciation. If you discover either on your own or upon an IRS audit that you have run afoul of the rules, then the individual who took a personal flight may have taxable income to report and there could be another obligation for unreported and undeposited payroll taxes by both the employee and the employer. And naturally, there are penalties pertaining to the payroll tax issue. It never ends and it never quits.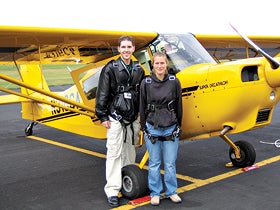 If you own a plane, my advice is that either you or your tax preparer have Code Section 274 committed to memory and that you maintain a seating chart for every seat in the aircraft and you know who's in every seat on every flight. Then, deal with the tax issues to everyone accordingly. It costs a lot of money to buy an airplane without considering the operating cost, and depreciation deductions alone are tremendous. You won't be happy if these deductions are disallowed by the IRS.
Are Flying Lessons Deductible?
This question pops up more frequently than you can imagine. "Can I get a tax deduction if I learn to fly a plane?" I get this question from people who are just starting to get interested in aviation, as well as those who have been flying for many years and want to upgrade their ratings. Oftentimes, the person new to aviation depending on their facts, circumstances and situation has a better chance of getting to "yes" than someone already holding their ticket.
This issue went to trial early in 2012. Even though the taxpayer lost, had the taxpayer fulfilled his responsibilities, the judge just may have gone along with the taxpayer and let the taxpayer have the deduction. But the taxpayer failed in his responsibilities so the judge had no choice but to rule not necessarily for the IRS but against the taxpayer. All the IRS had to do was to sit back and watch because the taxpayer brought nothing to trial.
Page 2 of 3