Tuesday, August 24, 2010
Buying Your First Airplane
Navigating the purchase maze
Different Ways To Buy:

Owner Profiles
By Marc C. Lee
Anybody serious about buying an airplane will look at the various flavors of aircraft ownership available. Here's a look at three options: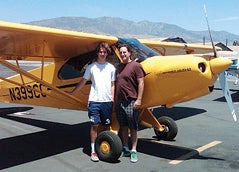 Outright Ownership
Rich Festa
2009 CubCrafters Sport Cub S2 LSARich recently earned his sport pilot certification and was growing frustrated about the lack of LSA to rent in his local area. "I also wanted a safe airplane for my 16-year-old son, who is learning to fly and will eventually fly the airplane, too," says Festa. So he decided to buy his own LSA. Festa also decided to narrow his search to pre-owned aircraft newer than 2007. Festa met Ben Hodges, who brokers out of Oceana airport in California. "The Carbon Cub had caught my eye, and Ben was a dealer," says Festa. "Right after takeoff on our demo flight, I knew I wanted that airplane."

The Sport Cub he bought is a 2009 model with only 75 hours on it. It came with a Garmin 496, and Festa added the Zaon traffic alert system to help with the Southern California airspace congestion. Since his purchase, Festa has added 40 of his own hours to the bird and loves the process. "It's more than just about flying," he says, "It has been a great father-son experience."

Festa's advice to other outright buyers is to narrow down their options.
"I looked at too many airplanes," notes Festa. "And you have to put a lot of effort and time into the process." He also recommends using a broker. "It made the whole process a breeze," he says. "All I had to do was the funding and the insurance."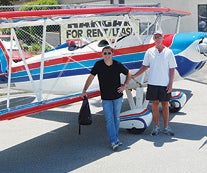 Partnership
Marc Lee
1976 Great Lakes 2T-1A2 biplaneIn my case, the overriding theme of my aircraft search was "low cost" and "fun." The third criterion was that the airplane had to have a tailwheel and, preferably, two wings.

Months after placing an ad of my own, I found a partnership at my local airport that had several members, few of whom flew the airplane very often. Lack of interest, time and practice had meant the airplane sat in the hangar often. Insurers don't like new biplane pilots, so I had to pay a bit of an insurance premium and fulfill their requirements of a lengthy checkout.

Costs are low due to the airplane's age, value and size (two seats). We assist heavily in all maintenance, turning the annuals into a party with all hands turning wrenches, removing inspection plates and getting dirty. It's a great way to get to know the airplane and feel confident about how it's maintained. A local A/I supervises and inspects our work. To further reduce costs, I put in extra time cleaning the hangar, making sure maintenance records are clean, and washing and waxing the aircraft.

Challenges in any partnership are mostly due to scheduling. We have since created a web-based scheduling system using free components, as well as a website for the airplane to keep members notified of issues or announcements. New partners keep the airplane flying more, thus reducing maintenance costs, and we share 100% in all duties and responsibilities. The net result is that I fly a cool airplane for about 60% of the costs of renting.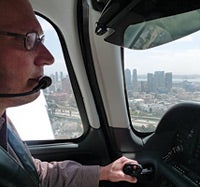 Fractional Ownership
Keith Ruskin
Cirrus SR22 through AirShares EliteKeith Ruskin is a very busy anesthesiologist in Connecticut who became a fractional airplane owner through AirShares Elite in 2004. Ruskin flies about 80 hours per year, for both business and family travel, and rates convenience and availability as prime factors in his decision to go with fractional ownership.

"I have an airplane whenever I want it," says Ruskin, "and with airplanes in just about every part of the country, I can fly wherever I am." AirShares Elite is constantly refreshing their Cirrus fleet so owners always have access to new airplanes. "I could never afford to buy the SR22 that I fly," laughs Ruskin.

In fractional scenarios like AirShares Elite, all the maintenance is handled by the company. Ruskin says, "I love that if there is a maintenance issue, it immediately becomes someone else's problem." He relates the story of having invited several friends on a trip and arriving at the airport only to find a serious mechanical issue with the airplane. "I called the special AirShares phone number, and 30 minutes later, I was preflighting a new airplane."

Fractional owners like Ruskin appreciate the training requirements of fractional companies. "Airshares Elite requires an annual proficiency check, and I love it," says Ruskin. "It keeps me in training mode all the time." Recently Ruskin flew to California commercially, then met his Cirrus at LAX and flew it to San Diego. After several days there, he flew it back to LAX and handed the keys to an AirShares pilot. "It's just a fantastic setup," he says.

Page 5 of 6