Tuesday, October 21, 2008
Co-Ownership: Navigating Airplane Partnerships
Buying an airplane with a partner opens up ownership to any pilot. Do it right the first time
That's My Warbird
Fly History offers a new twist on shared ownership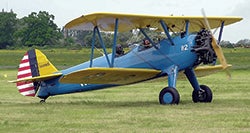 When it comes to daydreaming about airplane ownership, warbirds top most pilot's lists. For those who have experienced one of these beasts from the pilot's seat, nothing else comes close. Owning a warbird, however, is just one step below "finding lost Mayan treasure" on the possibility scale for most of us.

A new company, Fly History LLC, is offering 20 charter-member slots in each of six locations across the country, giving flying club–type access to actual warbirds. Each location will house one T-6 Texan, one Stearman PT-17 and two T-34 Mentors. Member pilots will have full access to all of these aircraft, just like any standard flying club.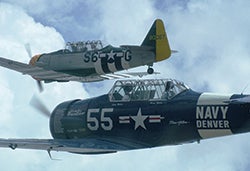 There are strict experience requirements. To fly the T-6 solo, for example, you must be a private pilot with a tailwheel endorsement, 1,000 hours of total time, 250 hours in a retract and at least 100 hours in a tailwheel airplane. Fly History maintains a full training program that parallels the military and includes instructors with considerable warbird experience. This training allows member pilots to act as PIC in any of these formidable aircraft.

Exact figures vary by location, but a member slot costs about $1,380 per month, plus an hourly rate on each airplane (except the T-6) of $165 an hour, dry. The T-6 will rent for about $275 per hour, dry. What you get for all that is the cachet of pulling up to your next hamburger run in a snarling war-era airplane.

"Aviation is just a bunch of people who are passionate about airplanes and are looking for more," notes Fly History founder Jeff Simon, "and nothing beats flying one of these airplanes." For more, visit www.flyhistory.com.

Mooney 201: The Airplane That Saved A Company


By Bill Cox

WEB EXCLUSIVE

!

It was 1974, and Mooney was in trouble. A successful builder of four-seat retractables since the '50s, the Kerrville, Texas, company was having a hard time competing against a quartet of comparatively new retractables, all powered by essentially the same four-cylinder, 200 hp Lycoming engine, the IO-360. Piper's popular Arrow, with its innovative automatic gear-extension system, was selling well, stealing sales directly from Mooney. Cessna was building the slick, strutless, retractable version of the Cardinal, another airplane that cut into Mooney's market. Rockwell Commander was offering the big-cabin, upscale, model 112, and Beechcraft was marketing its Sierra, a 200 hp, gear-up variation on the successful Sundowner. Against so much competition, Mooney needed to pull a rabbit out of the hat if it hoped to survive.

To that end, Mooney owner Republic Steel brought in aerodynamicist and speed guru Roy LoPresti from Grumman American. LoPresti was the father of the Cheetah and Tiger, and his mission at Mooney was to increase the airplane's performance without increasing production costs. The Mooney Chaparral and Executive were already the fastest machines in the class, but Republic felt it needed a truly dramatic performance increase to pull away from the competition. Additionally, any changes to the product line would need to be accomplished with no gross weight increase. Accordingly, LoPresti set to work modifying the Executive, Mooney's flagship model at the time. "Frankly, I thought the better vehicle for the changes would be the faster, short-fuselage Chaparral," LoPresti told me several years ago.

"The Chaparral had more speed to begin with, but the company was adamant that the stretched Executive fuselage was the preferred target for the mods. I didn't agree, but as I look back on it now, they were definitely right." In the short span of two years, LoPresti, Rocky Peters and a small group of dedicated Mooney engineers slicked and faired the Executive with some 30 speed mods. They redesigned the windshield to a more swept-back profile and reconfigured the cowling strictly for speed rather than as a compromise between speed and climb. To handle the extra heating associated with climb, they mounted extra large cowl flaps.

The gear doors were redesigned to cover more of the wheels, further reducing drag beneath the wing. Flush riveting was extended to cover the forward 60% of wing chord and all wing hinges were enclosed with fiberglass fairings. LoPresti also expanded use of gap seals to the flaps, a feature previously employed on ailerons and elevator. A new, slicker fairing was mounted for the forward vertical stabilizer intersection with the fuselage, the OAT was modified to a tiny probe beneath the airplane, the tail tiedown was reduced in size and a myriad of other small changes further improved what was already the fastest airplane in the class.

The result of these innovations was 18 mph more top speed, boosting that number to 201 mph, and raising max cruise to more like 195 mph (169 knots). The M20J was born, and its performance outpaced that of the four other retracts in practically every area. The results of the 201's preeminence were predictable. The new Mooney created a sensation. The company dropped the short-body Ranger and Chaparral but sold nearly a thousand of the new M20Js in 1977, 1978 and 1979. The Mooney 201 was to survive for 20 years before the company adopted more horsepower and the entry-level model became the long-body Mooney M20S Eagle.
Page 4 of 4