Tuesday, September 21, 2010
ElectriFly 2010
Electric flight is no longer an "if" but a "when"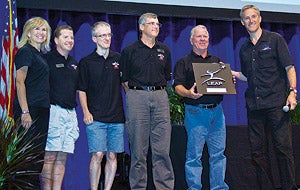 The Lindbergh Electric Aircraft Prize (LEAP) offers prizes for innovations within the electric aviation industry. The team at Sonex won a prize for best electrical aircraft systems/component technology.
Lindbergh's LEAP brings an elegant full-circle closure to the family legacy: It was, after all, the Orteig Prize that compelled his grandfather Charles to fly the Atlantic in the
Spirit of St. Louis
in 1927. The LEAP prize amount, by the way, is $25,000: same as the Orteig award. That's kind of neat.
The Wright Buzz
These are the Wright Brothers' days for alternative-powered aviation. The next time someone tries to rain on your electric-flight parade by citing short flight durations, just say, "Orville's first flight in 1903 lasted 12 seconds. In less than two years, Wright Flyer III flew for 38 minutes. So buzz off."
Buzz off indeed: This is goose-bump time. Electric flight is here. Reading the tea leaves, it's reasonable to project that within two to five years, we'll have 10 or more viable electric-powered aircraft to buy that will fly for at least an hour. Some will have flight endurances approaching the three-hour mark. And if anticipated breakthroughs in battery-density technology pay off—current research shows exciting promise—flight times will race past two hours to deliver true electric cross-country flight, not to mention many more electric automobile models, which is driving much of the current research.
This is history in the making: Electric flight is no longer an "if" but a "when."
Leading Edges
No doubt the most visible and viable large-scale electric enterprise is Yuneec International. This Chinese-British joint-venture company created a sensation last year at Oshkosh AirVenture with demonstration flights of its aesthetically stunning E430 two-seat S-LSA. At AirVenture 2010, Yuneec again demonstrated a talent for innovation—and newsmaking—by winning the LEAP prize for the E430 as Best Electric Aircraft. This on the heels of the prestigious 2010 British Design Museum Award earlier this year.
But wait, there's more. Although the E430 is still a year from production, Yuneec hurtles forward in its bid to become
the
commercial electric-powered-airplane builder. Its product line includes powered electric backpacks for foot-launched paragliders, electric hang-glider trikes, Tom Peghiny's eSpyder ultralight (which also nears production), and two new motorgliders: the two-seat, t-tail Viva (also an S-LSA), and the Apis 2, a single-seater with a retractable prop similar to the Antares 20E. Both are brainchildren of noted German designer Martin Wezel.
Yuneec also just inked a deal with longtime, well-respected RC model battery maker Dow Kokam, to provide battery packs with 1,500 charging cycles—twice as long as what the E430 carried last year.
Page 2 of 5
Labels:
Aviation News
,
Aviation Resources
,
Features
,
Learning Center
,
Pilot Guide
,
Pilot Resources
,
Staying Current
,
New Aircraft
,
Aircraft
,
New Airplanes
,
Gadgets
,
Adventure Aircraft