Tuesday, September 21, 2010
ElectriFly 2010
Electric flight is no longer an "if" but a "when"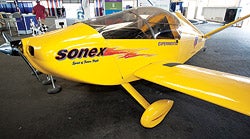 Homebuilt-kit maker Sonex Aircraft's electric aircraft, Waiex, was on display at EAA AirVenture 2010. It features a brushless 270-volt DC cobalt motor that draws on 800 lithium polymer batteries linked together. The total battery weight is 300 pounds.
Fueling The Future
At this year's first-ever Oshkosh Electric Flight World Symposium, famed aeronautical engineer Burt Rutan made a wish: "I want to see an electric manned aerobatic airplane perform here at Oshkosh." That wish may have already sprouted wings: EADS, parent company of Airbus, showed a tiny electric single-seat flivver at the Green Aviation Show in Paris last spring that'll do a full 15-minute aerobatic routine! The buglike design, nicknamed the Green Cri, is a reworked Cri-Cri developed by France's Michel Colomban in the 1970s. Originally powered by two tiny engines, the electric version's four brushless motors spin counter-rotating props!
Another mind-zapping project about to catch the public eye melds a tail-less sailplane fuselage based on Greg Cole's SparrowHawk with eight electric motors mounted to a tilting wing, a la the military V-22 Osprey. The eccentric concept comes from the Gyro Gearloose mind of inventor JoeBen Bevirt and his Joby company. The motors, developed for Joby by Diederik Marius, displayed at the recent CAFE Electric Aircraft Symposium IV. The unit weighs less than seven pounds and generates more than 13 hp. Dubbed the Monarch, the craft will swing carbon-fiber props.
Ready to sell is the Powrachute ElectraChute, a powered parachute based on its Voyager Rotax-powered model and driven by a 128-volt, LiPo-juiced pusher motor.
Bending The Mind
As companies big and small fly through the R&D trail, fused motor controllers, flash-burned components, spark showers worthy of Nicola Tesla, blown-out transistors and back-to-the-drawing-board mutterings will attend all efforts. Yet never fear: The gritty stuff of technical innovation produces soaring visions—enough to take your breath away.
Recent "skymark" flights include:
• Zephyr: an unmanned, solar-powered aircraft that flew for two weeks—and could have continued indefinitely.
• Observer: Yet another unmanned electric surveillance aircraft, this four-engine prototype will eventually be powered by a liquid-hydrogen fuel system. Built by the late, great Dr. Paul MacCready's AeroVironment, it flew an hour at 4,000 feet, entirely controlled from the ground.
• Solar Impulse: also solar-powered, but manned. It flew 26 hours nonstop, while maintaining a 40% power reserve, meaning it could have easily flown beyond the physical limitations of its single human pilot.
• Sunseeker III: the latest version from hang-glider veteran Eric Raymond of a design he has successfully flown for more than 20 years will be the world's first two-seater solar airplane.
Page 4 of 5
Labels:
Aviation News
,
Aviation Resources
,
Features
,
Learning Center
,
Pilot Guide
,
Pilot Resources
,
Staying Current
,
New Aircraft
,
Aircraft
,
New Airplanes
,
Gadgets
,
Adventure Aircraft