Tuesday, July 3, 2012
Getting A Lot For A Little
Some affordable enhancements can give new life to any aircraft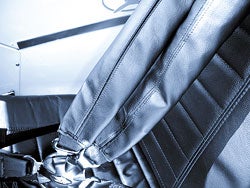 AmSafe Seatbelt Airbag
AmSafe Seatbelt Airbag
www.amsafe.com
Although some 80% of new aircraft come equipped with AmSafe's seatbelt air bags as standard equipment, those of us with older aircraft couldn't enjoy the life-saving benefit of these units until recently. Probably one of the smartest bang-for-your-buck retrofit items, AmSafe air bags can make the difference between life and death.
AmSafe has introduced an updated and lighter seatbelt air bag than their earlier offering. AmSafe Seatbelt Airbags look like standard seatbelts and operate the same way. A specially designed air bag is stored in either the lap or torso-belt portion of the restraint. When sensors detect an impact, the air bag deploys up and away from the passenger, providing protection to the head, neck and torso. Bottom line: They make impacts survivable. Price: approximately $1,500 per seat.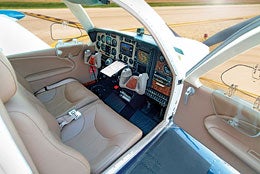 Aviation Design Interiors
Aviation Design Interiors
www.aviationdesign.com
Nothing makes an aircraft feel like new more than a different interior. Aviation Design makes complete aircraft interiors that can be mailed to a customer or installed at their facility. They also specialize in individual components, such as armrests, headrests, seats and doors, that will customize your aircraft. Such add-ons as their Beechcraft armrests and cabin doors really dress up an otherwise mundane cabin.
Aviation Design utilizes patented Comforfoam in their seats and quality materials throughout. For owners who don't need a custom interior, Aviation Design's mail-order, pre-built components are just beautiful and a vast improvement over what came from the factory. Price: varies based on several factors.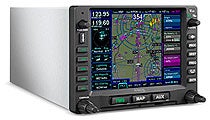 Avidyne IFD540 Touch Screen GPS/Nav/Com
Avidyne IFD540 Touch Screen GPS/Nav/Com
www.avidyne.com
If your panel space is at a premium, but you want top-notch components for both communicating and navigating, look no further than Avidyne's innovative combo unit. The IFD540 combines the same Flight Management System as found in Avidyne's Entegra Release 9 glass panel, with a multichannel digital VHF radio. All of it comes in a single, easy-to-install, panel-mounted unit.
The IFD540 is designed as a plug-and-play replacement for the Garmin GNS530 & 530W navigators, using the same tray and antennas to allow installation without wiring changes. It features a larger display than the Garmin units, 400% more pixels, and a much easier to use hybrid touch screen interface. Price: $16,995.
BRS Airframe Parachutes
www.brsparachutes.com
| | |
| --- | --- |
| BRS Airframe Parachutes | |
While most people know that BRS makes the parachute for the Cirrus airplanes, they don't know that this same parachute system is available for retrofit in other aircraft, including LSA and certified models. In fact, BRS makes airframe 'chute systems for aircraft that range from 600 pounds up to 3,100 pounds, with installations for more than 300 aircraft. Each system is made of three components: the container, canopy and deployment rocket. When the deployment handle is pulled, the rocket accelerates to 150 feet per second, extracting the parachute and harness and pulling the lines taut. The canopy then inflates and decelerates the aircraft. The system has already saved hundreds of lives. Price: $3,000-$12,000 depending on aircraft.
Page 2 of 4