Tuesday, July 3, 2012
Getting A Lot For A Little
Some affordable enhancements can give new life to any aircraft

Sporty's Aircraft Cleaning System
Sporty's Aircraft Cleaning System
www.sportys.com
Okay, so this one isn't a retrofit, but it's a great deal on everything needed to bring your aircraft back to life and keep it looking new. Sporty's kit is divided into three sections: interior, exterior and windshield. These include a bottle of Cabin Master for complete inside care, interior wipes, avionics screen cleaners and "Ozium" to keep things smelling fresh. It also has one gallon of Carbon-X for debugging and degreasing, Fleet Wash, one gallon of Poly-Glide polish, spray bottle, and a bunch more to get everything looking good. The kit can even be personalized with your name. Price: $179.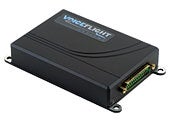 Voiceflight VFS101 Speech Recognition
Voiceflight VFS101 Speech Recognition
www.voiceflight.com
From the "cool enhancements" category comes this ingenious unit. The VFS101 is an FAA STC'd speech-recognition system that allows pilots to enter waypoints and airways into their Garmin 430W/530W GPS units, some 10 times faster than using tedious knobs or touch screens. Pilots use their voice with standard ICAO phonetic alphabet (alpha, bravo, etc.) to "talk to" their GPS. A set of verbal flight plan-editing commands allows the pilot to input re-routes in seconds without having to look down and work the GPS knobs and screens.
The VFS101's speech-recognition algorithms are incredibly fast and accurate, and can be installed in hundreds of aircraft without FSDO field approval. Voiceflight just released their companion iPad app that allows pilots to transfer flight plans from their iPad to the VFS101 through a special cable. Price: $1,995.
It's interesting that flying clubs and partnerships often overlook the importance of investing a little bit of cash to improve an already good airplane. With even a modest budget, a group-owned airplane can be transformed into an even better asset. And those pilots who enjoy putting in some elbow grease and turning wrenches can take advantage of the current used aircraft market and pick up a nicely used aircraft at bargain basement rates. By adding some affordable retrofits, a good cleaning and some creative additions, a new plane will emerge. The next time you're lamenting the fact that you can't afford that quarter-million dollar beauty, consider what you can enhance on a budget. A little can go a long way.
Page 4 of 4