Wednesday, September 9, 2009
Getting Creative: Affordable Flying
With the economy in trouble, pilots are finding innovative ways of keeping themselves in the sky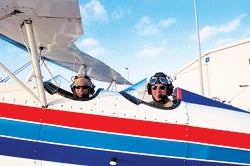 After my pilot friends stopped laughing, they suggested I forget the whole thing. Nobody with a biplane or vintage airplane was just going to let me fly it. If anybody even considered it, they'd surely be based at some faraway, podunk airport that cost a tank of car gas to get to. But why not? With the economy in dire straits, I knew people who owned airplanes and were looking for creative ways to keep them flying. I've always believed that anything is achievable.
Indeed, the very day my ad came out, the phone rang. It was a guy from the same airport as the Cub I rented. He had a biplane—a Great Lakes—with a couple of other guys. But it had only flown 33 hours last year—not good for a vintage airplane. Nobody helped with maintenance, and as a mechanic, he was looking for someone willing to help with oil changes, annuals and hangar upkeep. He offered an hourly cost based on tach (not Hobbs) time that included hangar, insurance and fuel. We flew the bipe several times and came to an agreement. It ended up being a small fraction of what I had spent on the Cub, and today, I'm a part owner. My success with the little newspaper ad got us wondering, and we asked you—Plane & Pilot readers—what you're doing to make flying more affordable.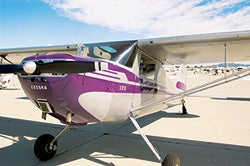 Today's economic doldrums have led pilots to look for more creative and less expensive ways of flying. Some are purchasing vintage airplanes, such as a Cessna 120 taildragger (above); others, like Marty Sacks, are joining volunteer flying groups such as the Civil Air Patrol (below).
Volunteer Flying
Marty Sacks grew up in a flying family. He earned his private certificate and, six years later, his instrument rating, but he ran out of money and left flying to raise a family. Twelve years later, he was looking for something he could do with his teenage son and decided that flying would be a great activity. Flying with his son led Sacks to the Civil Air Patrol (CAP).
All CAP cadets are eligible for five free flights until they reach the age of 18. The instructional flights are flown in CAP-owned airplanes and paid for by the U.S. government. The pilots of the government-sponsored flights are CAP volunteers—mostly civilian certificated pilots. Sacks found that his previously logged 300 hours qualified him to be a CAP pilot. To date, he has logged nearly 400 more hours flying CAP cadets—without spending a dime of his own money.
"The CAP owns the largest fleet of Cessnas in the country," Sacks tells me. "We even have glass 182s." The CAP uses the fleet to conduct more than 90% of domestic inland search-and-rescue (SAR) operations. Add training to the sorties, and it's plain to see that volunteering for the CAP is a great way to fly for free.
"The thing is that I get more out of the cadet flights than the kids do," says Sacks. "It's incredibly rewarding in that I'm introducing many of these kids to a passion they'll have for the rest of their lives." While the flying can also be somewhat regimented, and pilots have to do a lot of paperwork, the result, says Sacks, is unbeatable: "I'm planting seeds for tomorrow. Any pilot who flies for this program will tell you it's the best thing he or she ever did."
Page 2 of 4