Wednesday, September 9, 2009
Getting Creative: Affordable Flying
With the economy in trouble, pilots are finding innovative ways of keeping themselves in the sky
Fly Vintage
"I had been renting Piper and Cessna four-place airplanes from my local 'friendly base operator' for many years," says newbie aircraft owner Bruce Zellner. "But the cost of renting and fuel surcharges got outrageous." So what did Zellner do? He bought a "cherry" 1946 Cessna 140 on eBay. "I looked for two years, and this is the nicest I've ever seen," Zellner tells me.
He found that he could fly the 140 for about a third of the cost of the FBO airplanes. "It suits me because I'm almost always by myself anyway," he says. "It comes out to about $40 an hour, fuel included!" Zellner says he rents a four-place from the FBO on the rare occasions when he needs more than two seats. The 140 feeds his love of tailwheel flying and keeps his stick-and-rudder skills polished.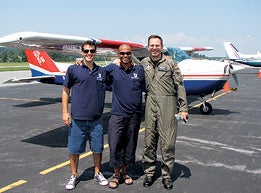 Zellner also discovered a little-known secret: The number of pilots willing and able to fly a tailwheel airplane is diminishing, thus driving down the price of these aircraft. And to prove that flying tailwheel aircraft isn't as difficult as people think, Zellner tells me he left flying for 25 years—like many of us—and picked it back up in only five hours. His time was spent in Citabrias, Cubs and Champs, and the instruction has been valuable. "You pick up airmanship that isn't taught anymore," remarks Zellner.
After 40 years of flying, this is Zellner's first airplane. His advice to make flying more affordable? "Get yourself a good vintage airplane that's inexpensive to fly," he says. "I bet it will slash your rental costs more than half." Zellner recommends that the airplane have a tailwheel. "Oh, there's just nothing like landing a tailwheel on grass," he smiles, "nothing."
Give A Little
NAFI instructor Chester Smith believes in young students. So much so that he came up with a simple idea: He would cut his instruction rate in half, sometimes more, for any young student enrolled in at least one class at an accredited school. The student had to maintain a good academic standing and remain enrolled. Smith offered the deal to students looking to advance in commercial aviation and eventually work for an airline.
Smith isn't wealthy. In speaking with him, it becomes obvious that he just wants to do his part to engage young people in aviation. "Both AOPA and NAFI are saying, 'What are you doing to make flying affordable?' so this is what I came up with," says Smith. He believes that young people are the key to aviation. "I'm 60 years old," he says, "I'm not going to be flying Airbus A380s and the new Boeings tomorrow: These young people are."
Sometimes, Smith even finds jobs for young students who come to him. In many cases, he strikes a deal with them. "I tell them the cost of the airplane and instruction. Then I ask them what they can afford," explains Smith. "They pay me what they can afford. You can't do it with everybody all the time, but you can make arrangements."
Smith isn't the only instructor doing this. At Corona Airport in California, a CFI who owns a Luscombe sometimes gives young students flight instruction for just the price of fuel. He prefers to stay out of the spotlight. In fact, some don't agree with the idea of cutting rates. Smith says, "There is contention. Some people say it undercuts the CFI. I say, 'So be it.' Really, if we don't help these kids, who's gonna fly tomorrow?"
Page 3 of 4