Wednesday, September 9, 2009
Getting Creative: Affordable Flying
With the economy in trouble, pilots are finding innovative ways of keeping themselves in the sky
Do It Yourself
Pilot Ed Baker claims he has saved $13,000 a year by digging in and looking at every angle of flying to save costs. For example, Baker is in a two-person co-ownership and decided to buy, rather than rent, a hangar. "The overall cost is less than renting," notes Baker, "and the hangar property continues to appreciate in value, about 8% annually."
The pilots do all the routine maintenance allowed by the FARs. Where A&P supervision of work is mandated, they call upon an A&P/IA counselor for guidance and logbook sign-off. The annuals are owner-assisted, with both owners swinging the wrenches and getting dirty. "Our maintenance costs are parts and outside shop work only," says Baker. "We save about $2,000 a year."
The two buy their fuel 25 miles away, where it's cheaper than at their home base. Finally, Baker says their flight records are impeccable and all operations are done by the book, allowing them to be self-insured. Baker tempers this last point by telling me, "Going bare as far as insurance requires unprecedented risk management." He adds, "These ideas are for people who enjoy aircraft maintenance as much as flying, to keep the costs down."
Getting Creative
There are many more examples of pilots finding alternatives to expensive aviating. There's Bill Monroe in Hilo, Hawaii, who, like Marty Sacks, joined the CAP. He found a CFI who rents his 172 at a discount to CAP members; furthermore, the plane even has an autogas STC. "For Hawaii, I get it at a bargain," he says.
David Montgomery expanded his ownership to include four pilots in a Piper Warrior II. "The main reason was to cover the cost to hangar the aircraft," says Montgomery. He found that the additional members keep the airplane flying more, which is great for the engine. "Even with four partners, we've never had a conflict over scheduling," he adds. "It's working out very well for us."
I know of an artist who trades his creations for flying. Another friend offers web programming in exchange for flying time. There are many more stories of economic innovation. The stories of pilots' creativity in the face of economic difficulty is another example of the passion that fuels aviation. As the economy worsens and pilots find new ways to save money, opportunities open up for those willing to do a little work. I think of that often as the wind whispers over the fabric wings of my little biplane. And, finally, nobody leaves crumpled fast-food wrappers in the map pockets.
Cub Cooperative: An Affordable Way To Own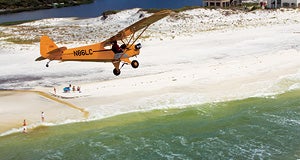 American Legend Aircraft Company recently started a program that will allow pilots to purchase a ¼-share interest in a brand-new Legend Cub for about $2,900 down, with flying costs as little as $28 per hour. The "Cooperative Ownership Program" is being made available through LetsFly.

The Legend Cub is a two-place aircraft certified for both sport and recreational flying. It looks just like the famous Piper J-3, down to the color. American Legend improved on the original Piper design and now offers the new Cub with impressive performance, looks and handling. The Cooperative Ownership Program brings this fun aircraft to everyday pilots.

Created in 1999, LetsFly specializes in developing co-ownership programs for aviation. Its model significantly reduces the costs of aircraft ownership and addresses all the usual ownership challenges, including insurance, utilization and financing. LetsFly President Eldon Corry says, "By combining all the aspects of aircraft ownership into a single manageable package, we can offer an attractive solution to those who wish to fly often, but prefer not to rent." Visit www.letsfly.org and www.legend.aero.

Page 4 of 4