Tuesday, July 5, 2011
Making The Most Of Your Aircraft Asset
Aircraft leasebacks can lower the cost of ownership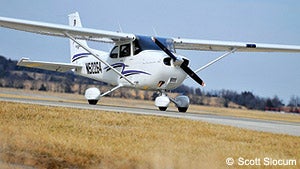 If your airplane isn't flying as much as it could be, you may be missing a cash-flow opportunity. Consider a leaseback arrangement for your aircraft.
Another version of a lease arrangement is an association with a flight school. This may be lucrative if you have a high-performance IFR single or a twin. Pilots looking to move up in their ratings generally have a higher degree of pilot skills, and aren't as rough on the plane as a new pilot climbing into the cockpit for their first 40 hours.
A possibility also exists for you to lease your plane to an air charter company. They could be looking for a plane to ferry passengers or freight.
Each of these alternatives must operate within the guidelines prescribed by the FAA. As such, the plane must be maintained to a higher standard than if you're the sole user of the plane. If you make a deal with another party to lease your plane, your contract should clearly define what the payment will be or how it will be determined.
Also, who'll be responsible for what expenses should be clearly defined. Many times, leases involving flight schools and air charter operations state that they'll be responsible for all of the expenses to keep the plane airworthy, and these expenses are often paid by the lessee. This arrangement will be reflected in lower gross revenue to you, the owner, but this shouldn't really matter because it's the net cash flow that will make this deal come together.
Making Sense Of Taxes
About this time in the conversation, the topic of income tax comes up. People always want to know if something is deductible. Funny, they never ask questions about the revenue they receive. But the revenue is taxable and the operating expenses are tax deductible—maybe. It depends on several factors.
Revenue from a lease is pretty straightforward. If someone pays you for the use of your plane, you have income and it's taxable. Expenses incurred to produce this revenue are tax deductible. This includes the fixed costs for storage and insurance. Variable costs incurred for supplies, fuel and oil are tax deductible, assuming they're provided by you.

Each taxpayer is unique, and any lease agreement must be individually evaluated. As such, any tax decisions must be evaluated on their own merit for each respective taxpayer.

The costs associated with maintenance can be tricky. Ordinary maintenance made necessary though normal operations is generally tax deductible. But improvements that add value to the plane or increase the useful life of the plane must be capitalized and depreciated. So, deductible maintenance (not capitalized maintenance) along with depreciation becomes the final component for determining the tax-deductible expense of the airplane.
Let's stay with depreciation for a minute. For 2011, there are numerous ways to compute the depreciation expense for assets placed in service this year. There's bonus depreciation that only applies to the purchase of new equipment. There's the Internal Revenue Code Section 179 depreciation deduction that applies to new or used assets placed in service, but with caps on the amount of the deduction. Under Section 179, the deduction could be entirely phased out and reduced to zero. And then there's the old tried-and-true standardized depreciation tables. All of these methods have an impact on determining if there's a profit or a loss.
Airplanes generally have a short life when it comes to depreciating the airplane for tax purposes—generally five years. Because of that, an aircraft is likely not to show a profit for the first five years after considering a deduction for depreciation. Then in years six and later, without the deduction for depreciation, the aircraft owner begins to show a profit on the plane.
Page 2 of 3