Thursday, November 1, 2007
No Worries With iFly
Shared access and exceptional member care make flying a cinch

I was introduced to a new kind of flying at an open house in Long Beach, Calif. Erik Lindbergh, grandson of Charles Lindbergh and cofounder of iFly, spoke of the "world's first exclusive aero club," a membership-only venture that provides shared access to technologically advanced aircraft and high-end customer service. Having recently earned my private license, I typically rent airplanes (and envy friends who own theirs). But iFly's program was intriguing, so I decided to check it out." />

"Thousands of hours were spent designing this equipment to make it intuitive. Once you understand the logic of the systems, it becomes much easier to work with. New pilots and student pilots may have an increased time investment, but it pays off in spades when using all this technology to make a flight safer and easier."

The first day of training focused on aircraft familiarization. Take off with 12 degrees of flaps, prop control full-forward, backup fuel pump set to armed, full power, right rudder and rotate at 75 knots. At cruise, rpm comes back to 2,500 and mixture to 50 degrees lean of peak, per Columbia's Transition Training Syllabus. After steep turns, slow flight and stalls, we reviewed the autopilot system, which had useful features that were new to me such as Control Wheel Steering and Flight Level Change (or airspeed hold). Patterns are flown at a comfortable speed of 110 knots on downwind, 95 on base and 85 on final, with no unusual or difficult characteristics in the flare.

The remainder of the training was a delight: short-field operations at Catalina Island, patterns at Chino and Borrego Valley Desert (normal, 12 degrees flaps, no flaps, speed-brakes, engine outs), and Class B airspace navigation (made simple with the G1000's moving map) at San Diego's Lindbergh Field. After being signed off and meeting with Chaiton for a two-hour orientation, I was set free.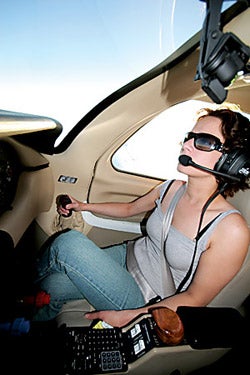 iFly, youFly
There were two goals I hoped to achieve with iFly: sharing general aviation with someone new to flying, and growing as a pilot through new experiences. My sister, Rachel, a newcomer to "little planes," came out to California from New York for a weekend flying trip to the Santa Cruz area. Staged at Santa Monica's Atlantic FBO, our Columbia looked impressive lined up next to Gulfstreams and Citations. This setting had Rachel expecting a Hollywood superstar to appear at any moment. "This is how travel should be!" she exclaimed.

A large TFR for fires was on the direct route to our first stop, King City, Calif., but its depiction on the G1000 was reassuring as we navigated around it. Having previously shrugged off autopilots (don't they take the fun out of flying?), I was now realizing their benefits. Flying this outstanding aircraft with reduced visibility caused by smoke while fielding an endless stream of questions from my right-seater, the autopilot was invaluable in managing workload.

At King City's Tutima Academy of Aviation Safety, a dealer for Extra Aircraft, Rachel rode in a new Extra 300L for an air-to-air photography session flown by air show performer Bill Stein (see "The Collaborators!" on page 58). "What a thrill to experience two different types of flying in one afternoon," Rachel said. "It was like arriving in a limousine to take a ride on a Harley." Stein joined us on the next leg to Watsonville, fitting comfortably in the airplane, in spite of several suitcases, miscellaneous bags, an oversized box, Stanley the teddy bear and two large boogie boards.

Page 3 of 5