Tuesday, July 23, 2013
Owners' Analysis: Eclipse, Mustang & Phenom
What better method is there of analyzing the current field of light jets than asking owners?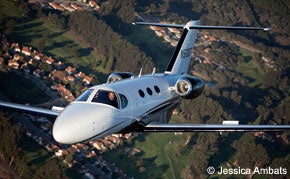 Bill Maudru flies his Mustang 510 regularly to Santa Maria, Calif., to visit a job site. He considers it the best plane for his missions.
Cello & Maudru Construction did some careful analysis of their own travel experience and that of their Part 135 clients, and determined that they rarely traveled with more than four people aboard. "We looked at single-engine turboprops, twin turboprops and the gamut of other competitors," says Maudru, "and there was one airplane that stood out as ideal for our type of operation."
As a result, the company traded up to a Cessna Citation 510 Mustang jet in late 2010. "The Mustang looked to be nearly a perfect fit for our business, and that's exactly the way it has worked out," Maudru comments. "The biggest benefit has obviously been speed. We're flying as quick as 340 knots, almost exactly twice as fast as we did in the Caravan, and that opens up travel benefits we couldn't have considered before. For example, we have a job site in Santa Maria, Calif., that we visit often, and the ability to cut travel time in half means we can spend more time on-site, and less time getting there and back.
"We also travel up and down the West Coast on a regular basis, usually with a pilot and two or three passengers aboard, though we have operated several times with all six seats full," Maudru continues. The advantage of pressurization and so much extra power allows us to cruise high above most of the weather in smooth air and sunshine, rather than have to slog it out down low in IMC conditions."
Maudru flies the Mustang himself on many trips, and the company employs a corporate pilot for Part 135 operation. Most of Maudru's hops are relatively short range, 700 nm or less, "so we don't necessarily need the full 2730 pounds of fuel," says Maudru. "We've had about a dozen occasions to fly coast-to-coast to our partner company in North Carolina, and we can do that in one day, fairly consistently eastbound, with one stop in someplace like Wichita. It's not so easy coming back—usually two stops or even three if the winds are strong up high—but it's still a very comfortable trip. Our baggage arrives when we do, and no one has to take their shoes off."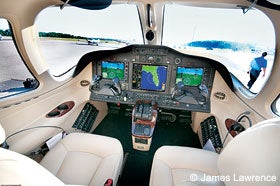 Maudru suggests book numbers have proven fairly conservative, and the airplane will beat them most of the time. "The FADEC system on the P&W engines is fairly foolproof. You set power and forget it. The FADEC takes care of all adjustments during climb and cruise. We see an initial 2,000 to 2,500 fpm on initial climb, and I fly the Mustang at FL400 or 410 on any leg longer than 1.5 hours. I simply select the 'cruise' detent and let the computer do the work. Fuel burn up high is only 400 to 450 pounds/hour (60 to 67 gph), not that much more than our Caravan at twice the speed, about 340 knots at optimum altitude."
With bug speeds at typical landing weights down around 95 knots, the Mustang can operate easily into any strip of 4,000 feet or more. "The carbon-fiber brakes are great, so we really don't miss the lack of thrust reversers," Maudru remarks.
Page 2 of 5