Thursday, November 1, 2007
Partnership Aircraft
With careful planning, shared ownership could be the best way to go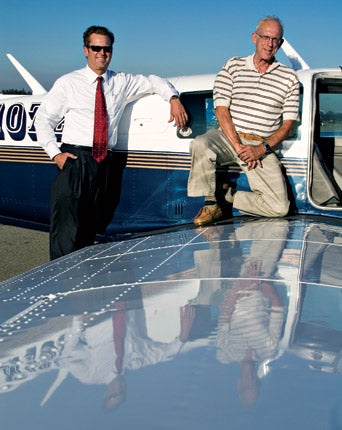 Would an aircraft partnership save you money or allow you to fly a bigger and better airplane for less than you're spending now?
A partnership, or shared aircraft ownership, is one of the oldest and sometimes most practical forms of owning an airplane. An aircraft partnership is a lot like a marriage: the good ones are heaven, and the bad ones are a nightmare. A few simple steps up front can make this arrangement a rewarding experience for the pilots whose flying needs fit into the joint-ownership framework. If you can't or don't want to own an entire airplane by yourself, this fast-growing segment of aviation can be the ticket to flying on your own terms.
Shared ownership is more common than most pilots realize and has been around for a very long time (we can assume that the world's first airplane was owned jointly by Wilbur and Orville). It includes large and small airplanes; the very rich and average Joes; and formal, professional management on new airplanes or just good buddies sharing a used Cherokee. Most of the new aircraft manufacturers have a factory- sponsored program, but some partnerships are actually formed on the golf course, in the airport coffee shop, or at your office or place of employment.
The underlying benefits of shared ownership are really for those pilots or corporations that need an airplane for just a small amount of time—not enough to warrant full ownership costs, but enough to need more reliable access than what rentals or charters can provide. The genesis of today's largest fractional jet program, NetJets, which has spawned similar programs for piston singles, goes back to the 1950s with a company called Beckett Aviation. Mr. Beckett realized that many companies in the upper Midwest industrial belt (Ohio, Michigan, Illinois) needed prestigious, readily available air transportation, but didn't want the hassles of hiring pilots, keeping a hangar or understanding airplane maintenance issues. To solve this, he sold these large and small industrial titans "shares" in a brand-new Twin Beech or Aero Commander, the prestigious corporate airplane of the day. For a fee, Mr. Beckett's company would hangar, maintain and crew the airplane for the group of owners. The program worked well, and the partners generally traded up to turboprops and eventually jets in the early 1960s. The idea of corporate aviation proved so valuable that many of Mr. Beckett's customers went on to buy their own airplane, and the program somewhat withered away because of its own success.
The major benefit of successful aircraft joint-ownership programs is the cost savings to the partners. Hangar, insurance, maintenance and purchase price are shared instead of all coming out of one pilot's pocket. In modern, professionally managed operations—e.g., PlaneSmart!, OurPLANE and AirShares Elite—there are added benefits, such as predictable costs and no hassles of maintenance, storage and handling. The fractional owners pay a bit more for the convenience and time savings of having someone else "baby-sit" the airplane. The fractional owner just shows up and flies the airplane. The cost structure isn't onerous: depending on the vendor, a 1⁄8-share in a new Cirrus is approximately $75,000, the monthly fee is in the range of $800 per month, and the hourly rate approximates the cost of fuel and engine reserves. The same new Cirrus, if purchased outright, would run about $500,000; the monthly upkeep expenses would run about $1,800 per month; and the hourly figure would remain about the same as the fractional program. The benefit of being a solo owner is that it's all yours, it's always available and you have unlimited use of your airplane. Under the fractional program, you're generally capped at about 75 hours per year. You can buy more hours, but the cost-effectiveness starts disappearing at about 125 hours per year. Beyond 125 hours or so, it's cheaper to own it all.
Page 1 of 4