Thursday, November 1, 2007
Partnership Aircraft
With careful planning, shared ownership could be the best way to go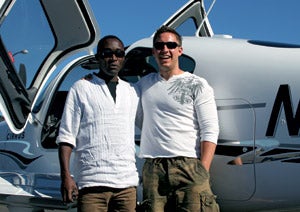 Pilots who can agree on decisions involving maintenance, scheduling and finances will make the best partners.
Bill saw an ad in his newspaper for a 1⁄3-share of a really nice Cessna T-182RG. He had sold his fixed-gear 182 many years ago because of the cash requirements of his growing business and his lack of time to fly. He had window-shopped the local Cessna dealer for a new 182, and was somewhat surprised at the sticker price of a new glass-panel 182 ($350,000). The ad offered 1⁄3 of a nicely equipped turbocharged, retractable 182RG for about $45,000. He looked at the airplane and liked it. He liked the fact that the radios were late-generation King and he wouldn't have to learn the new glass-panel package. He was doing okay financially, and he was eager to get back into flying, so he quickly wrote a check for the $45,000 and began getting back into flying. The prepurchase meetings with the existing two partners amounted to just a few quick lunches at the airport coffee shop. The existing owners already had a mechanic who could do "all the work at really great prices and save everyone a ton of money."
Bill was as meticulous in his flying as he was in his office and home, where things were neat, bills were paid on time and he had a healthy respect for maintaining machinery (from his family-farm roots in Missouri), but as he points out, "after about six months, I started noticing that the airplane was usually dirty and had stray food wrappers under the seats when I went to fly. At first, it wasn't a big deal and I enjoyed washing the airplane on Saturday afternoons."
On one trip, he was running late and in a hurry, and his preflight showed the fuel tanks were empty. Somewhat annoyed, he called the FBO to send a fuel truck. The young lady told him that they couldn't send a truck and would he mind coming to the office to see the FBO manager? Bill's good nature was quickly evaporating. The young FBO manager informed Bill, face-to-face, that he was sorry, but the airplane couldn't be serviced any further until the $1,825 in back fuel charges were taken care of. Bill called Ted, his partner who usually handled the money side of things, but he couldn't be reached. He called the other partner who said that he hadn't flown in a while but assumed Ted was taking care of it. Bill put the entire past-due fuel bill on his credit card so he could get fueled and underway, thinking that he would reconcile the error with the partner who took care of the accounting later.
On the return trip, Bill noticed the left mag was running rough and it had reached the maximum limit of tolerance for a mag drop, so he asked the FBO to look at it because he had another trip in two days. The maintenance manager said they could do it, but did Bill want to go ahead and get the annual done, since it expired five months ago?
"I was flying a dirty airplane that wasn't being carefully maintained, without a current annual inspection, which was a clear FAA violation and a sure way to have an insurance carrier deny a claim had there been an accident. In my book, this wasn't acceptable any longer," Bill confided. After a heated confrontation with his partners, Bill learned that the FBO fuel bill hadn't been paid because there wasn't enough money in the airplane account to pay for it as two cylinders had to be replaced on the last annual, and the unexpected expense ate up all the fuel money. Ted was waiting for a good-buddy mechanic to finish his vacation and get back to work and schedule their annual, but Ted had simply lost track of time. To the buttoned-down Bill, this wasn't working. "I told the others I wanted to get out of the partnership and would they please buy me out?" This didn't work because Ted was retiring in 18 months and didn't want to take on any more expense or debt, so he couldn't. Roger, the other partner, was in a messy divorce, and everything was tied up financially, so he couldn't buy Bill out. Bill then offered to buy out Ted and Roger, but Ted really didn't want to sell because he was looking forward to doing a little flying after he retired. Bill tried, but gave up trying to deal with Roger, his wife and her attorney, who weren't in any hurry to discuss an airplane. So, Bill now owned 1⁄3 of a poorly maintained, underfunded situation with no clear-cut way to extricate himself from the deal. When I last checked, Bill was trying to find someone, anyone, who was comfortable with the laid-back style of Ted and Roger.
This is an extreme example, but it's not uncommon. It's easily prevented by doing some basic paperwork up front, including a written partnership agreement covering how to exit the deal, how the airplane will be maintained, who handles the money, who schedules the maintenance and how to handle shortfalls.
To be sure, there are probably many more successful aircraft partnerships than horror-story partnerships, and the partnership agreement is, in many cases, the key to which type yours may turn out to be.
Whether you're just starting your flying career and want to see if flying will actually be a part of your life before taking the plunge to buy a whole airplane, or you're winding up your flying career and don't want to be without an airplane altogether but don't feel justified in carrying the ball by yourself, it's worth exploring the idea of a shared ownership or partnership to see if it's the best method for you to own an airplane.
Find a group who thinks as you do on the important issues, shares your goals and expectations, and puts it all in writing. Follow these suggestions, and hopefully, you'll have a very productive and positive airplane partnership experience. Whether you're buying into a Cessna 150 or a new Gulfstream V, what can be better than flying your dream airplane and saving money?
Page 4 of 4